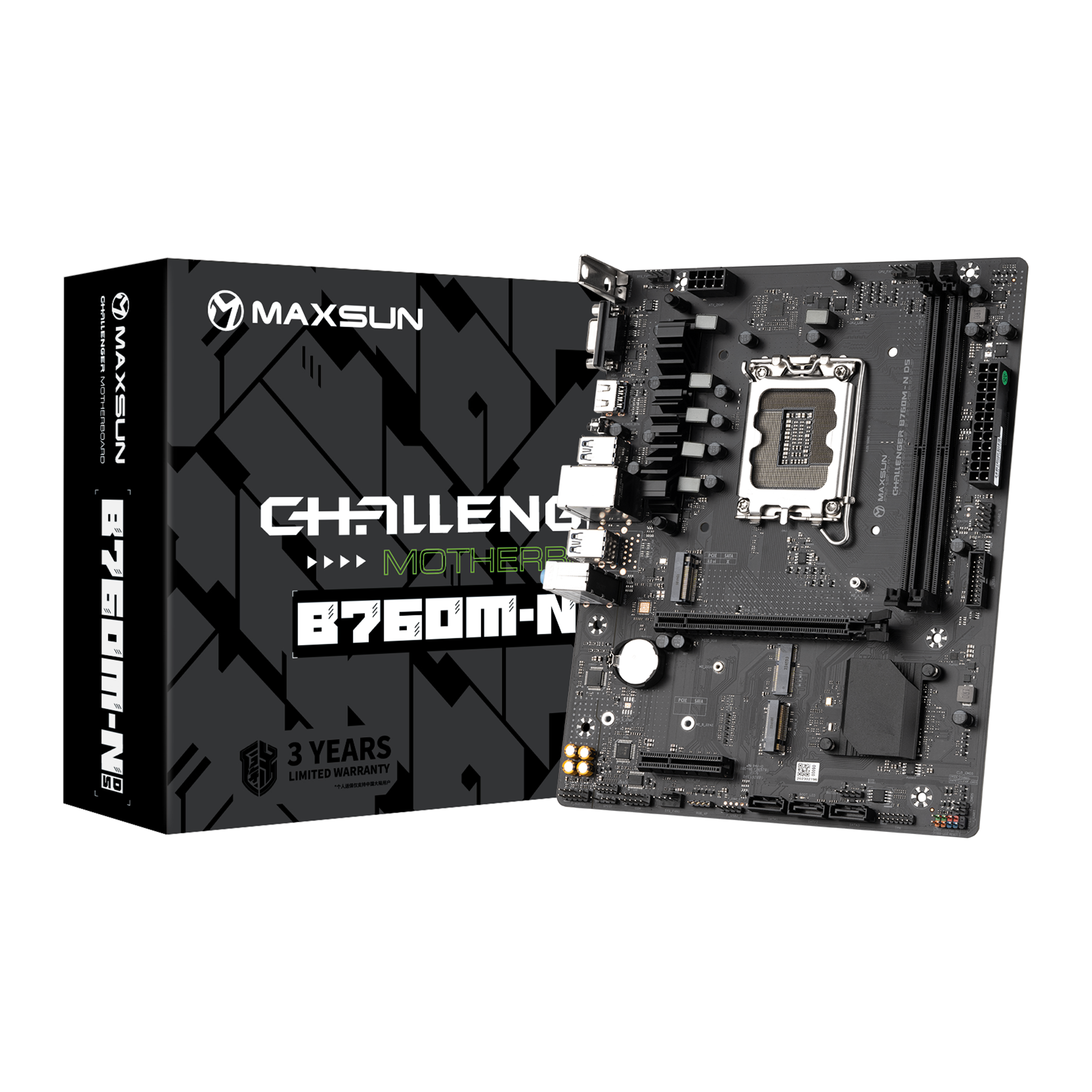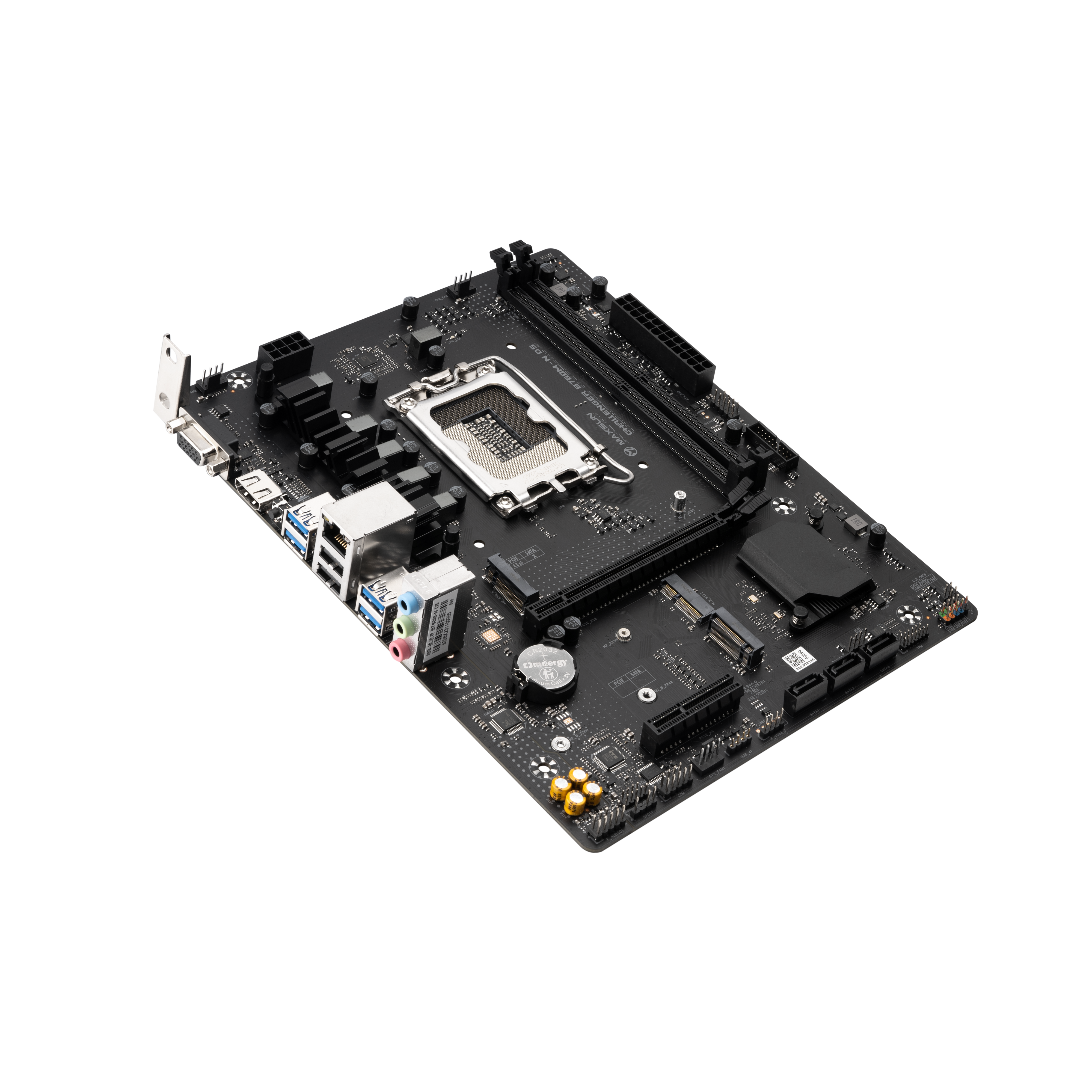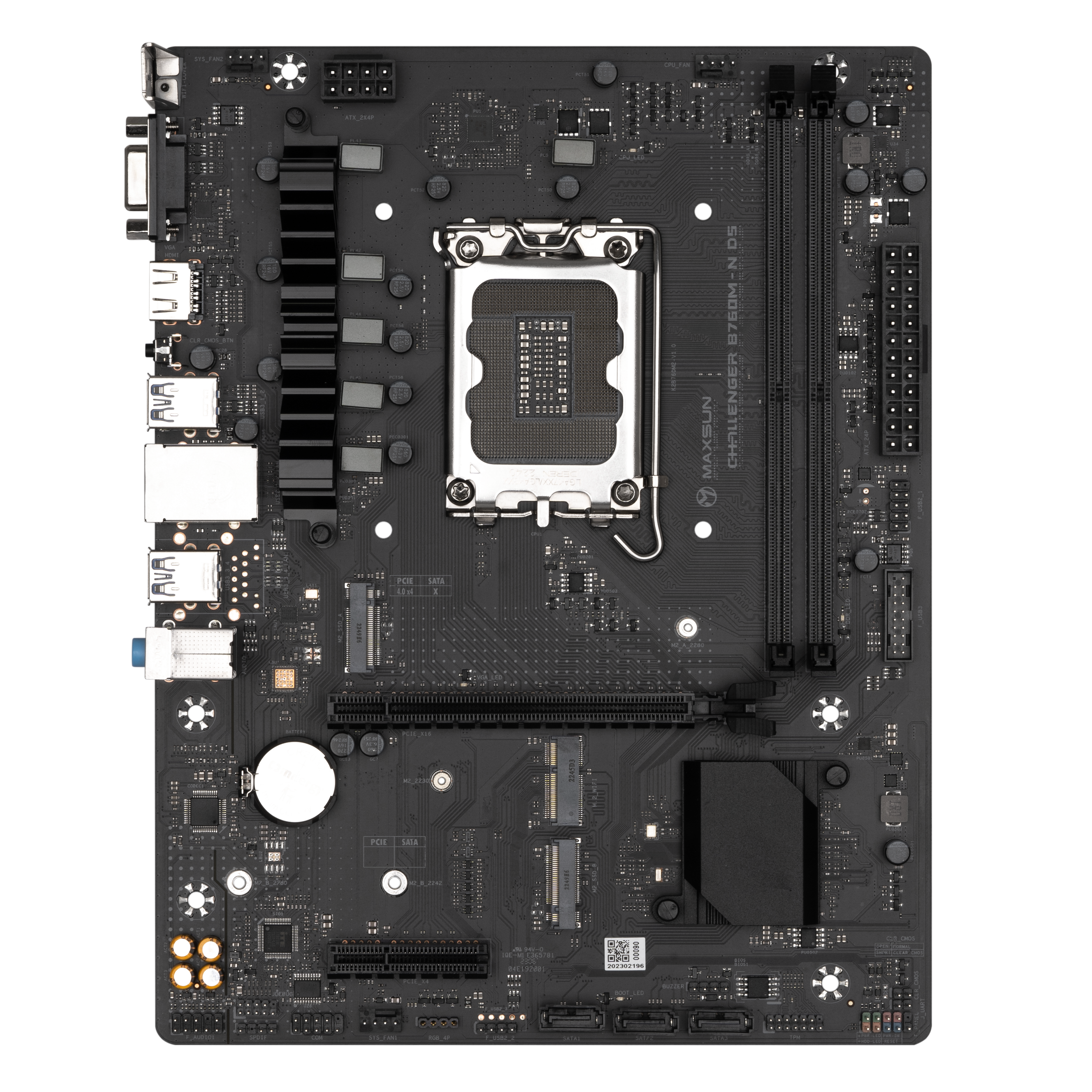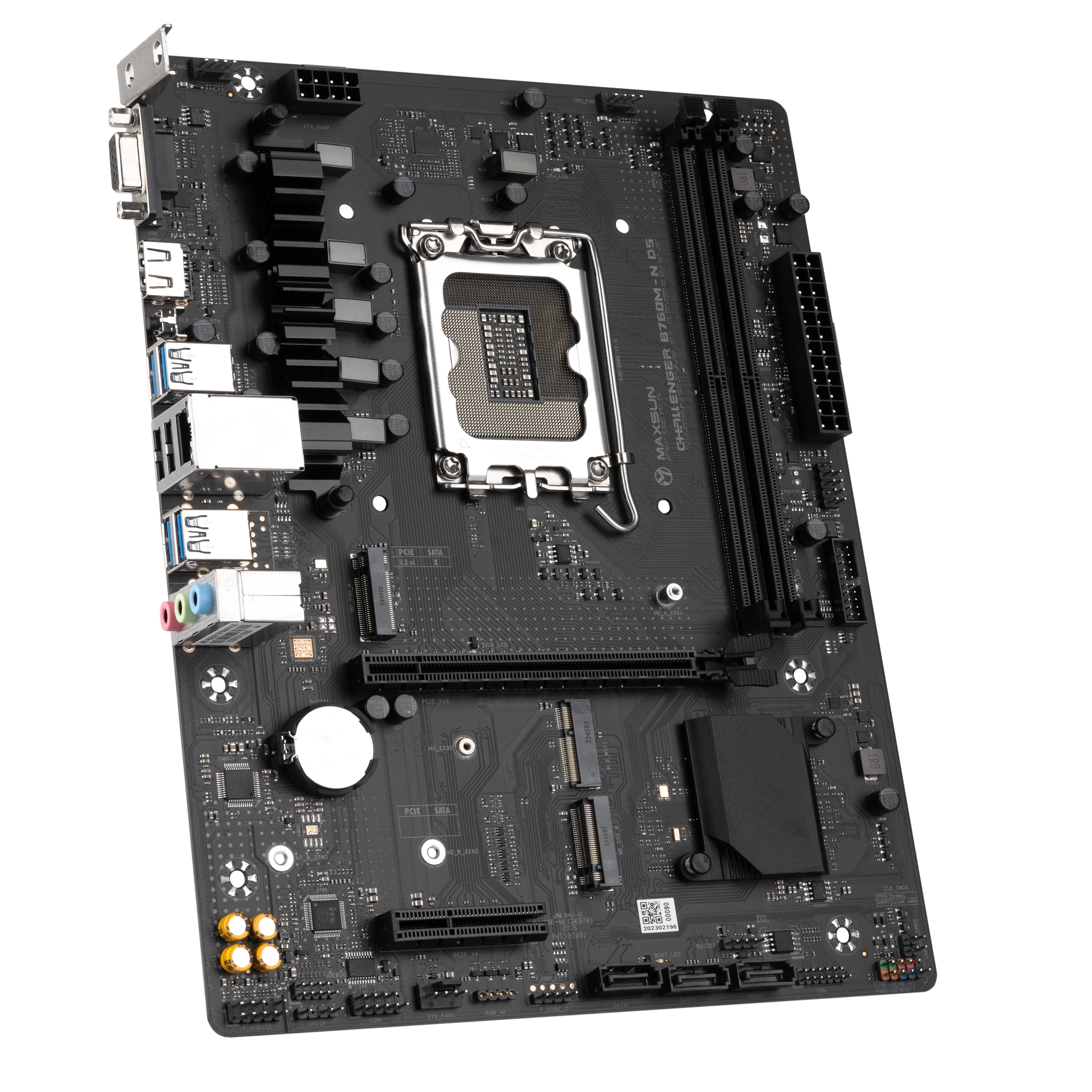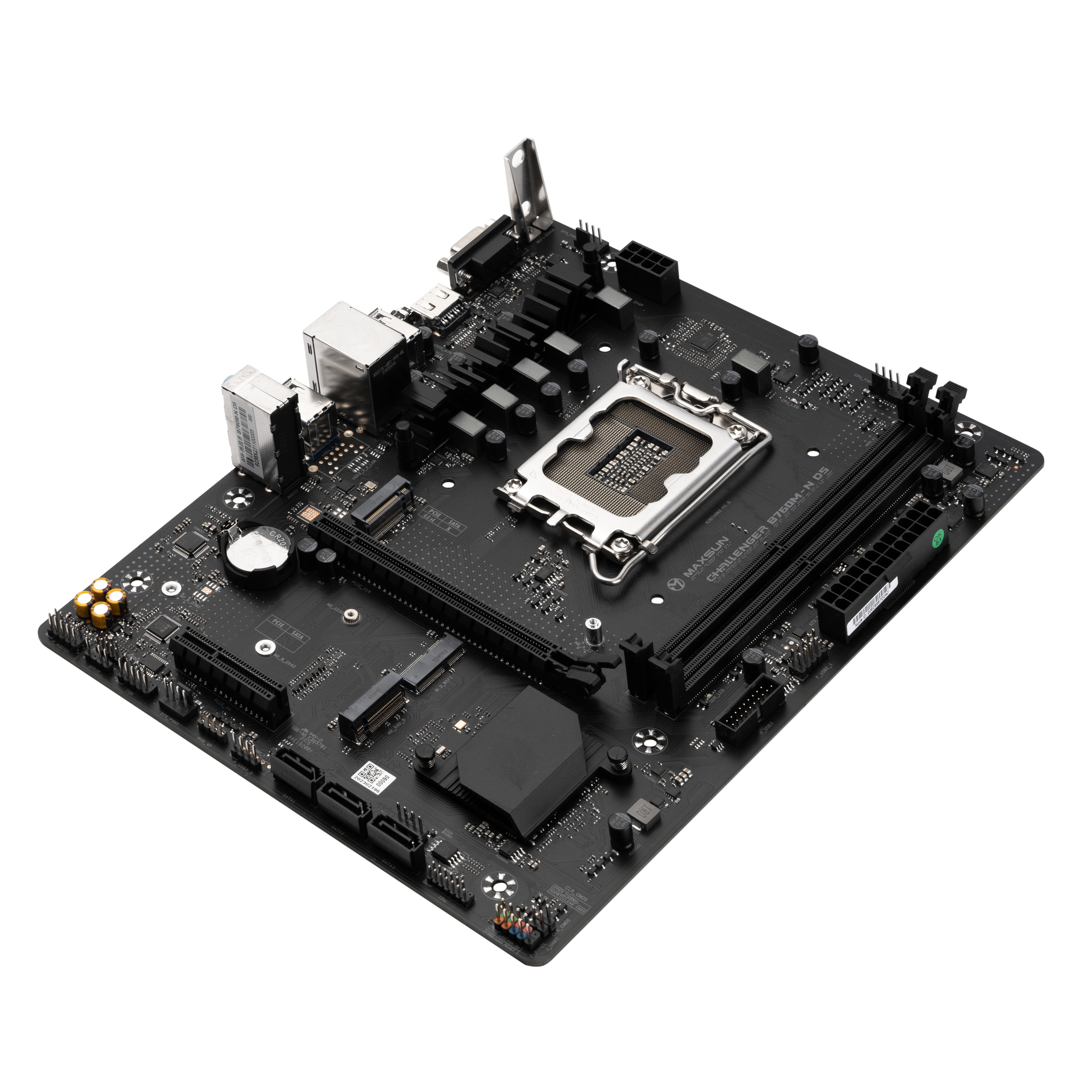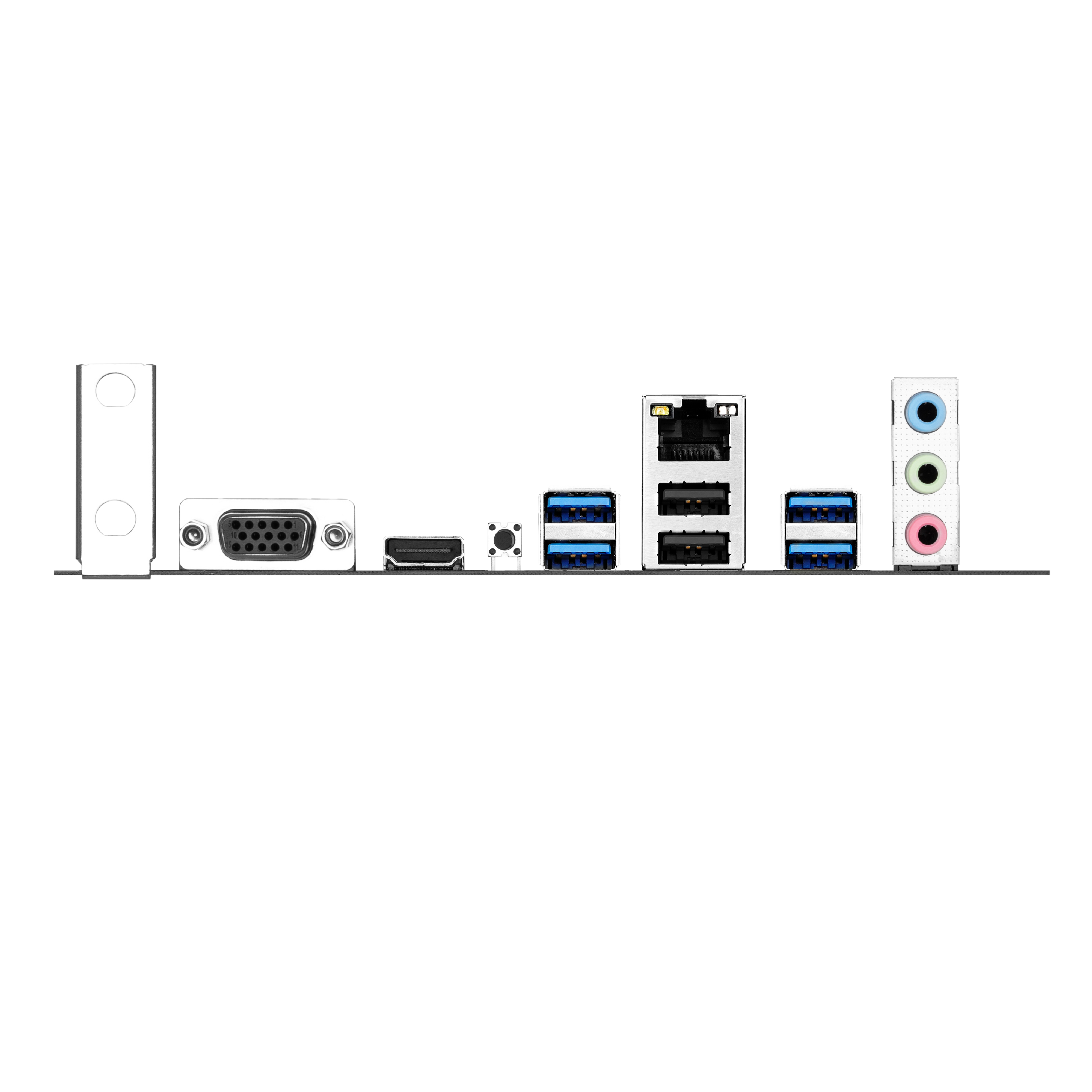 Challenger B760M-N D5
---
4+1+1 phase stable power supply
Core 50A Dr. Mos
High-speed Dual M.2
DDR5 memory, XMP 5600MHz/OC+
Open PCIe x4 slot
Support full protocol WIFI module
OVERVIEW
MS-ChallengerB760M-ND5

Stable power supply


4+1+1 Phase Core 50ADr.Mos

DualPCle 4.0x4 M2


PCle 4.0x4 supports NVMe

DDR5


SupportXMP5600MHZ/0C+

MS-Challenger B760M-N D5

M-ATX board type Size: 245*190mm

50A Dr.Mos

SIC639

4+1+1

phase power
supply design

Dual PCle4.0x4 M.2

Nvme protocol support

Better performance
Better Experience

2*PCle expansion slots

1*PCle 4.0x16 full-length slot
1*PCle x4 open slot

13th & 12th

lntel® Core™
LGA1700 支持

DDR5memory

Dual channel 2*DIMM
Support memory XMP
4800/6400MHz (oc)

Front 2*USB 3.2+4*USB 2.0
Rear 4*USB 3.2+2*USB 2.0

PWM
master control
RT3624AE

Realtek ALC897 sound card
Realtek 8111 network card

Max Power stable power supply

Adopt 4+1+1 phase stable power supply scheme,
core each phase for 50A Dr. Mos, to provide enhanced
power protection with entry-level Core

Alloy Heat Sink Armor

Motherboard core power supply MOS part,
covered with alloy heat sink armor, so that the
power supply performance more stable output.

Dual M.2 hard drive interface

Motherboard provides 2 PCle 4.0x4 full-speed M.2 hard drive
interfaces with NVMe protocol support.
Slot_A Support 2280, Slot_B Support 2242/2280

Dual-channel DDR5

Motherboard provides dual-channel DDR5 memory slots,
supporting memory XMP 4800/5600MHZ/6400MHZ(oc)

Excellent expandability

The motherboard provides one PCle 4.0x16 graphics slot,
one PCle x4 open slot, one set of USB 3.2 pins on the front,
one set of USB 2.0 pins, four USB 3.2 and two USB 2.0 on the rear,
and one WIFI M.2 interface with full protocol support.

USB2.0

USB3.2

PCIe 4.0 x16

PCIe x4

USB2.0
SPECIFICATION
CPU
Supports 12th/13th Gen Intel® Core™ Processors, Pentium® Gold and Celeron® Processors
LGA 1700

MEMORY
2x DDR5, Maximum Memory Capacity 96GB
Memory Support DDR5 6000(OC)/ 5800(OC)/ 5600(JEDEC)/ 5400(JEDEC)/ 5200(JEDEC)/ 5000(JEDEC)/ 4800(JEDEC) MHz
Supports Intel® XMP 3.0 OC
Supports Dual-Controller Dual-Channel mode

ONBOARD GRAPHICS
1x VGA
*Support VGA, maximum resolution of 2048x1536 50Hz, 2048x1280 60Hz, 1920x1200 60Hz
1x HDMI™port
*HDMI™ port supports up to 4K@30Hz
*Graphics specifications may vary between CPU types. Please refer to www.intel.com for any updates.

EXPANSION SLOT
1x PCIe 4.0 x16 slot
1x PCIe 3.0 x4 slot

STORAGE
M.2_1 slot (Key M), type 2242/2280 (supports PCIe 4.0 x4 mode)
M.2_2 slot (Key M), type 2242/2280 (supports PCIe 4.0 x4 mode)
3 x SATA 6Gb/s ports

RAID
Supports RAID 0, RAID 1, RAID 5 and RAID 10 for SATA storage devices

USB
*Front USB (Total 6 ports)
2x USB 3.2 Gen1 Type A
4x USB 2.0
*Rear USB (Total 6 ports)
4x USB 3.2 Gen1 Type A
2x USB 2.0

LAN
Realtek® RTL8111H 1G LAN

AUDIO
Realtek® ALC897 Codec
5.1-Channel High Definition Audio

INTERNAL I/O
1x 24-pin Power Connector(ATX_PWR)
1x 8-pin Power Connector(CPU_PWR)
1x CPU Fan
2x System Fan
2 x M.2 slots (Key-M)
3x SATA 6Gb/s ports
1x 2-Pin CLR_CMOS
1x 4-Pin BUZZER
1x Front Audio
1x COM_A Port
1x 2-Pin F_PANEL
1x TPM pin header(Support TPM 2.0)
1x 3-Pin SPDIF
1x 12V 4-Pin RGB

LED FEATURE
4x Distributed Debug LED

OPERATING SYSTEM
Support for Windows® 11 64-bit, Windows® 10 64-bit

FORM FACTOR
M-ATX
245mm x 190mm
SUPPORT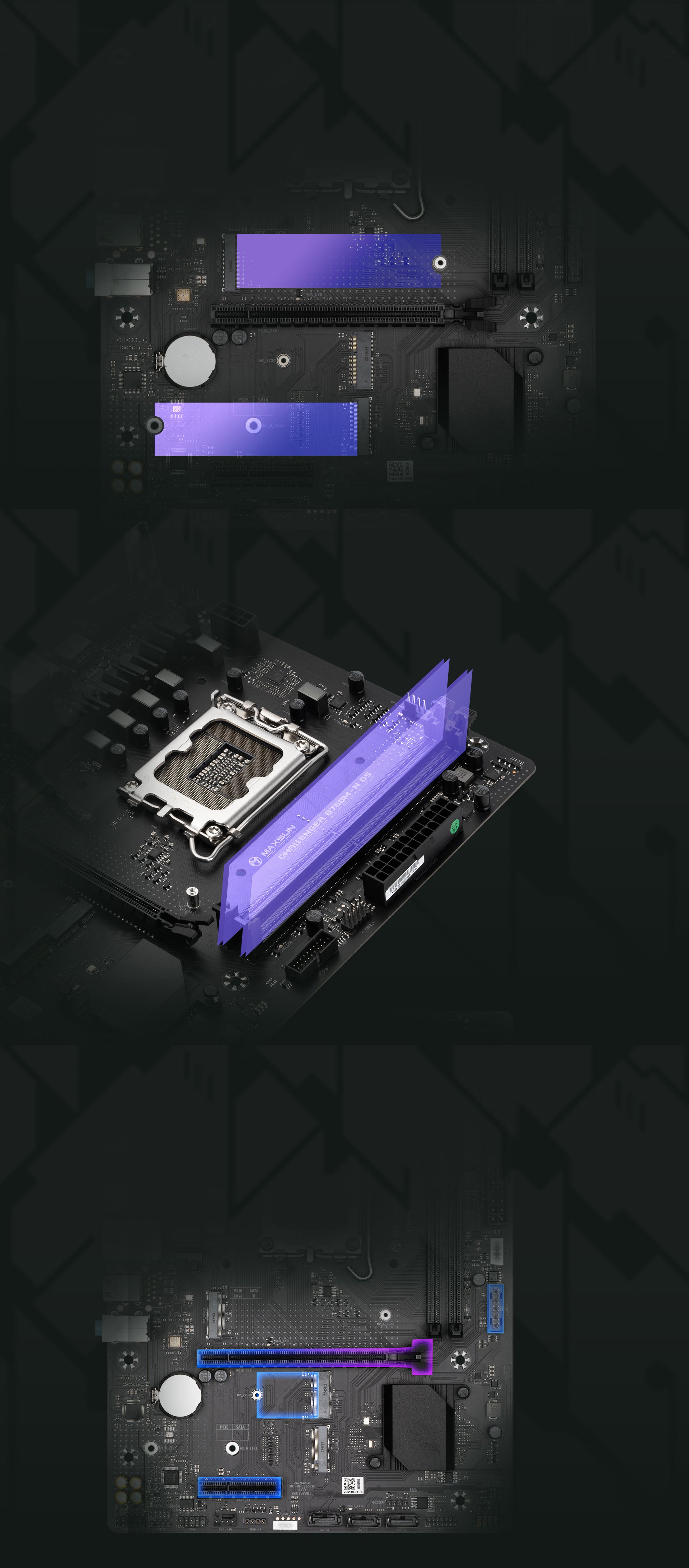 MS-ChallengerB760M-ND5
Stable power supply

4+1+1 Phase Core 50ADr.Mos
DualPCle 4.0x4 M2

PCle 4.0x4 supports NVMe
DDR5

SupportXMP5600MHZ/0C+
MS-Challenger B760M-N D5
M-ATX board type Size: 245*190mm
50A Dr.Mos
SIC639
4+1+1
phase power
supply design
Dual PCle4.0x4 M.2
Nvme protocol support
Better performance
Better Experience
2*PCle expansion slots
1*PCle 4.0x16 full-length slot
1*PCle x4 open slot
13th & 12th
lntel® Core™
LGA1700 支持
DDR5memory
Dual channel 2*DIMM
Support memory XMP
4800/6400MHz (oc)
Front 2*USB 3.2+4*USB 2.0
Rear 4*USB 3.2+2*USB 2.0
PWM
master control
RT3624AE
Realtek ALC897 sound card
Realtek 8111 network card
Max Power stable power supply
Adopt 4+1+1 phase stable power supply scheme,
core each phase for 50A Dr. Mos, to provide enhanced
power protection with entry-level Core
Alloy Heat Sink Armor
Motherboard core power supply MOS part,
covered with alloy heat sink armor, so that the
power supply performance more stable output.
Dual M.2 hard drive interface
Motherboard provides 2 PCle 4.0x4 full-speed M.2 hard drive
interfaces with NVMe protocol support.
Slot_A Support 2280, Slot_B Support 2242/2280
Dual-channel DDR5
Motherboard provides dual-channel DDR5 memory slots,
supporting memory XMP 4800/5600MHZ/6400MHZ(oc)
Excellent expandability
The motherboard provides one PCle 4.0x16 graphics slot,
one PCle x4 open slot, one set of USB 3.2 pins on the front,
one set of USB 2.0 pins, four USB 3.2 and two USB 2.0 on the rear,
and one WIFI M.2 interface with full protocol support.
USB2.0
USB3.2
PCIe 4.0 x16
PCIe x4
USB2.0
CPU
Supports 12th/13th Gen Intel® Core™ Processors, Pentium® Gold and Celeron® Processors
LGA 1700
MEMORY
2x DDR5, Maximum Memory Capacity 96GB
Memory Support DDR5 6000(OC)/ 5800(OC)/ 5600(JEDEC)/ 5400(JEDEC)/ 5200(JEDEC)/ 5000(JEDEC)/ 4800(JEDEC) MHz
Supports Intel® XMP 3.0 OC
Supports Dual-Controller Dual-Channel mode
ONBOARD GRAPHICS
1x VGA
*Support VGA, maximum resolution of 2048x1536 50Hz, 2048x1280 60Hz, 1920x1200 60Hz
1x HDMI™port
*HDMI™ port supports up to 4K@30Hz
*Graphics specifications may vary between CPU types. Please refer to www.intel.com for any updates.
EXPANSION SLOT
1x PCIe 4.0 x16 slot
1x PCIe 3.0 x4 slot
STORAGE
M.2_1 slot (Key M), type 2242/2280 (supports PCIe 4.0 x4 mode)
M.2_2 slot (Key M), type 2242/2280 (supports PCIe 4.0 x4 mode)
3 x SATA 6Gb/s ports
RAID
Supports RAID 0, RAID 1, RAID 5 and RAID 10 for SATA storage devices
USB
*Front USB (Total 6 ports)
2x USB 3.2 Gen1 Type A
4x USB 2.0
*Rear USB (Total 6 ports)
4x USB 3.2 Gen1 Type A
2x USB 2.0
LAN
Realtek® RTL8111H 1G LAN
AUDIO
Realtek® ALC897 Codec
5.1-Channel High Definition Audio
INTERNAL I/O
1x 24-pin Power Connector(ATX_PWR)
1x 8-pin Power Connector(CPU_PWR)
1x CPU Fan
2x System Fan
2 x M.2 slots (Key-M)
3x SATA 6Gb/s ports
1x 2-Pin CLR_CMOS
1x 4-Pin BUZZER
1x Front Audio
1x COM_A Port
1x 2-Pin F_PANEL
1x TPM pin header(Support TPM 2.0)
1x 3-Pin SPDIF
1x 12V 4-Pin RGB
LED FEATURE
4x Distributed Debug LED
OPERATING SYSTEM
Support for Windows® 11 64-bit, Windows® 10 64-bit
FORM FACTOR
M-ATX
245mm x 190mm