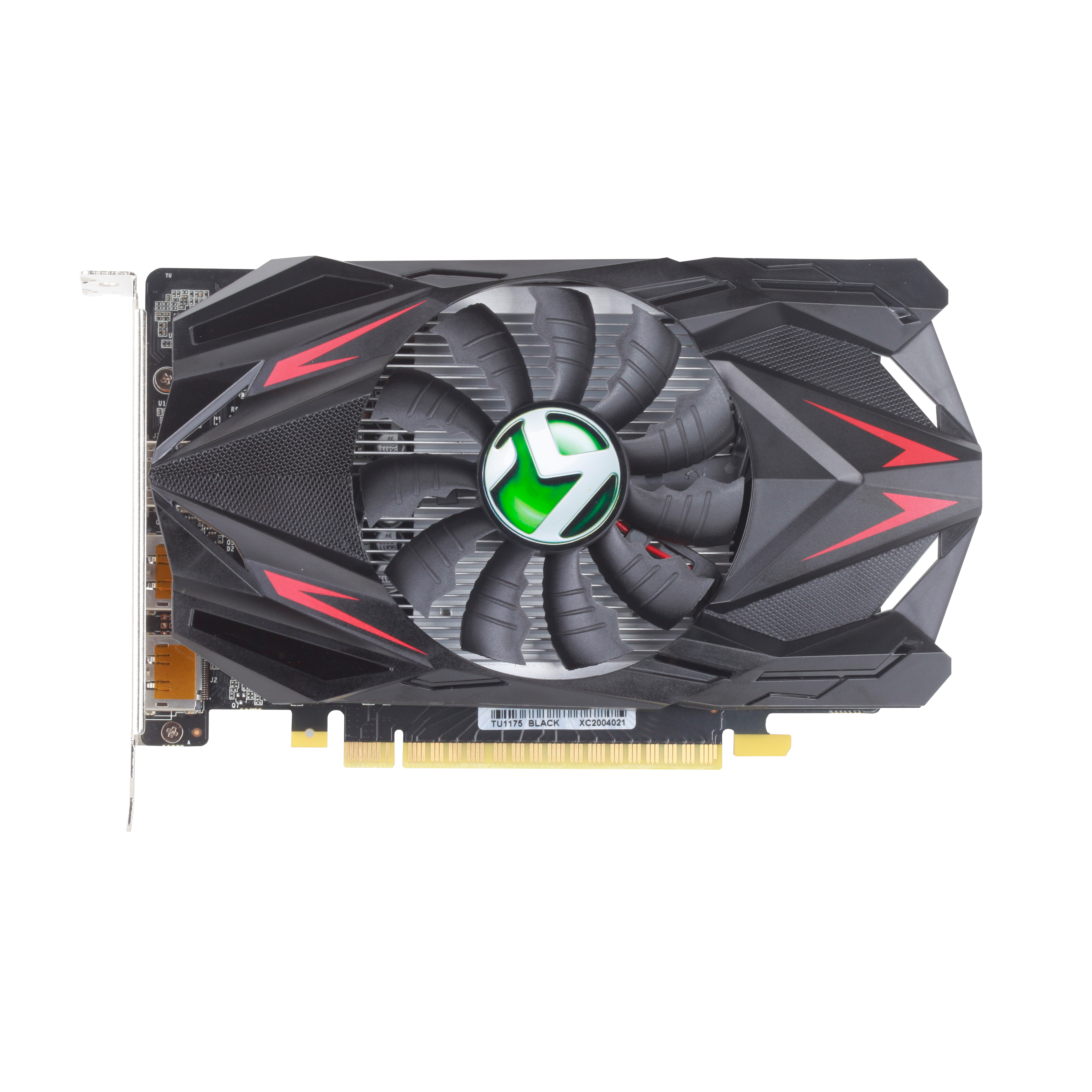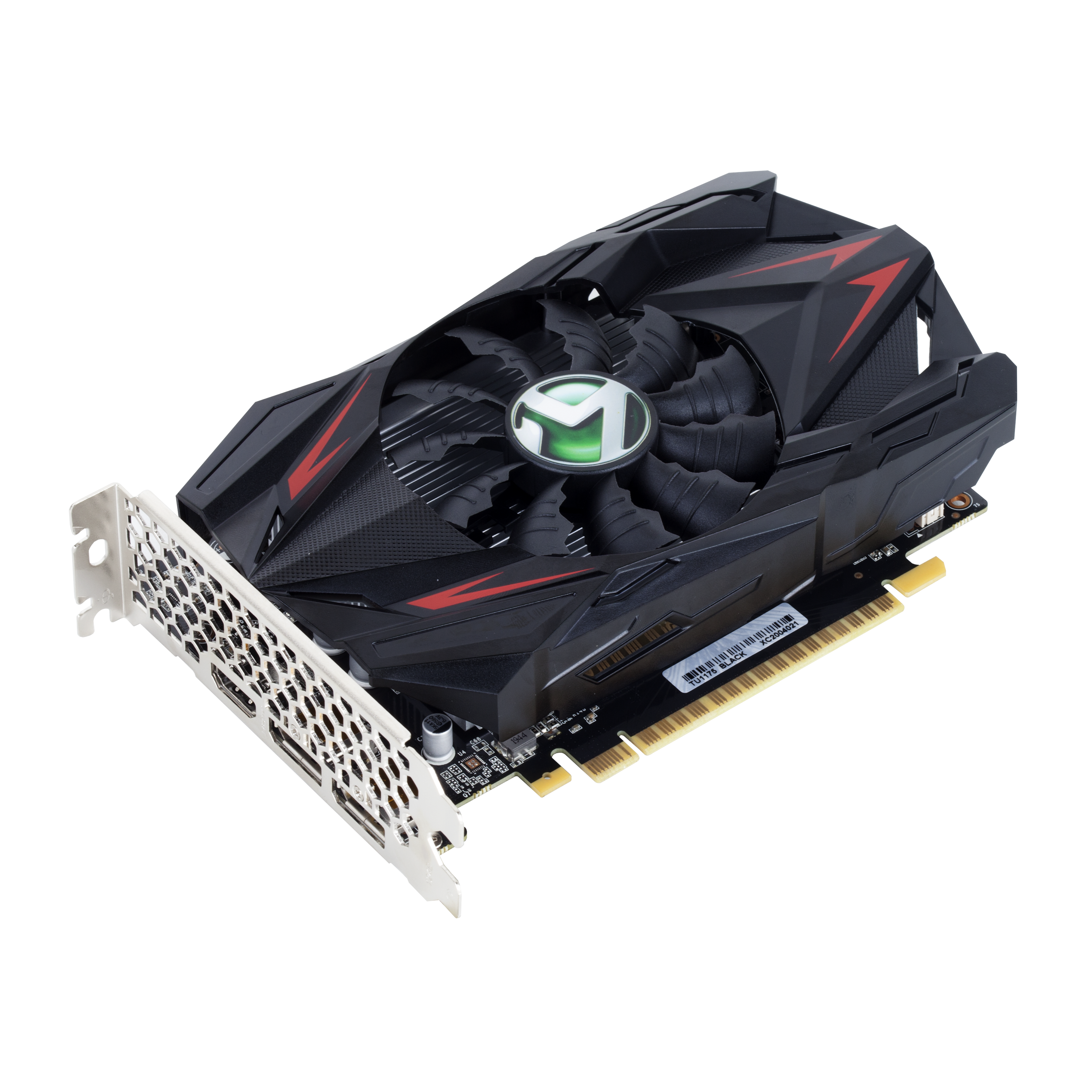 GeForce GTX 1650 Transformers 4GD6
---
Taiji Cooling System
Multi-Screens Wider Horizons
8K Support
Turing Shaders
Directx 12
OVERVIEW
GTX 1650 Transformer 4G D6

Model

Architecture

CUDA

Core Frequency

Memory

GeForce® GTX 1650

Turing

896

1410~1590MHz

4GB GDDR6

Memory Frequency

Memory Bit Width

I/O

TDP

Size

12000MHz

128Bit

HDMI*1+DP*2

75W

183*112*36mm

TURING SHADERS

Featuring concurrent execution of floating point and integer operations, adaptive shading technology, and a new unified memory architecture with twice the cache of its predecessor,Turing shaders enable awesome performance increases on today's games, Get 1.4X power efficiency over previous generation for a faster, cooler and quieter gaming experience that take advantage of Turing's advanced graphics features.

* The data is NVIDIA's laboratory test results, for reference only.

Awesome Performance

Upgrade your PC for performance that's up to 2X faster than GeForce GTX 950 and up to 70% faster than GTX 1050, enjoy a variety of new games

* The data is NVIDIA's laboratory test results, for reference only.

Geforce Experience

Capture and share videos, screenshots, and livestreams with friends. Keep your GeForce drivers up to date and optimize your game settings. GeForce Experience™ lets you do it all. It's the essential companion to your GeForce graphics card.

NVIDIA ANSEL

Turn your screenshots into art with this powerful in-game photo mode that captures 360, HDR, and super-resolution photos.

VIDIA STUDIO

Create without compromise. With exclusive NVIDIA Creator Ready designed to supercharge creative applications. Unlock dramatic performance and reliability—so you can create at the speed of imagination.

POWERFUL PERFORMANCE


GAMING SPEED UP

Z weapon

score:


119928

score:


4066TS

THICKENED ALUMINUM COOLING RADIATOR


EASY COOL DOWN 75W TDP

4MM THICKENED
ALUMINUM RADIATOR
Boost the heat dissipation
capability

90°OPTIMIZED
RADIATOR BLADE
Effectively divert the cold air
to the main heating part of the
graphics card

PCB ELECTRICAL PERFORMANCE


ENHANCEMENT DESIGN

Double copper high-efficiency circuit,
multi-layer PCB design, multi-phase enhancedpower supply enclosed Zero inductor,high-quality materials to ensure graphics cardstable runing

TURING SHADERS ITX GRAPHICS CARD

Fit for most ITX computer case.
build a small size and powerful performance pc

183mm
Lenghth

Width
36mm

Height
112mm

MULTI SCREEN WIDE HORIZON

MAXIMUM OUTPUT 3 MONITORS

4K Decode

HDMI

DP

DP

PICTURES
SPECIFICATION
MODEL NAME
GeForce GTX 1650 Transformers 4GD6

GRAPHICS PROCESSING UNIT
NVIDIA® GeForce GTX™ 1650

ENGINE CLOCK
Boost mode: 1590 MHz
Default mode: 1410 MHz

INTERFACE
PCI Express® Gen 3

HEAT SINKS
All aluminum cooling

OUTPUT
1x DisplayPort 1.4
1x HDMI™ 2.0
1x DVI

DIGITAL MAXIMUM RESOLUTION
Digital Max Resolution 7680 x 4320

POWER CONNECTORS
PCI Express X16

RECOMMENDED PSU
Above 350W

3D API
DirectX 12.1
OpenGL 4.6

CARD DIMENSION (MM)
185*113*35 mm

FEATURED FUNCTION
Support Simultaneous Multi-Projection VR image correction technology
VRWorks Audio Virtual Reality Audio Technology
PhysX Physical Acceleration Technology
NVIDIA CUDA
NVIDIA REFLEX
PureVideo HD hardware decoding
Dynamic Super Resolution
MFAA
GeForce 3D Vision
GameWorks™
G-Sync™-Ready
GameStream™-Ready
GeForce ShadowPlay™
GPU Boost™
SUPPORT


GTX 1650 Transformer 4G D6
Model
Architecture
CUDA
Core Frequency
Memory
GeForce® GTX 1650
Turing
896
1410~1590MHz
4GB GDDR6
Memory Frequency
Memory Bit Width
I/O
TDP
Size
12000MHz
128Bit
HDMI*1+DP*2
75W
183*112*36mm
TURING SHADERS
Featuring concurrent execution of floating point and integer operations, adaptive shading technology, and a new unified memory architecture with twice the cache of its predecessor,Turing shaders enable awesome performance increases on today's games, Get 1.4X power efficiency over previous generation for a faster, cooler and quieter gaming experience that take advantage of Turing's advanced graphics features.
* The data is NVIDIA's laboratory test results, for reference only.
Awesome Performance
Upgrade your PC for performance that's up to 2X faster than GeForce GTX 950 and up to 70% faster than GTX 1050, enjoy a variety of new games
* The data is NVIDIA's laboratory test results, for reference only.
Geforce Experience
Capture and share videos, screenshots, and livestreams with friends. Keep your GeForce drivers up to date and optimize your game settings. GeForce Experience™ lets you do it all. It's the essential companion to your GeForce graphics card.
NVIDIA ANSEL
Turn your screenshots into art with this powerful in-game photo mode that captures 360, HDR, and super-resolution photos.
VIDIA STUDIO
Create without compromise. With exclusive NVIDIA Creator Ready designed to supercharge creative applications. Unlock dramatic performance and reliability—so you can create at the speed of imagination.
POWERFUL PERFORMANCE


GAMING SPEED UP
Z weapon
score:


119928
score:


4066TS
THICKENED ALUMINUM COOLING RADIATOR


EASY COOL DOWN 75W TDP

4MM THICKENED
ALUMINUM RADIATOR
Boost the heat dissipation
capability

90°OPTIMIZED
RADIATOR BLADE
Effectively divert the cold air
to the main heating part of the
graphics card
PCB ELECTRICAL PERFORMANCE


ENHANCEMENT DESIGN

Double copper high-efficiency circuit,
multi-layer PCB design, multi-phase enhancedpower supply enclosed Zero inductor,high-quality materials to ensure graphics cardstable runing
TURING SHADERS ITX GRAPHICS CARD
Fit for most ITX computer case.
build a small size and powerful performance pc
183mm
Lenghth
Width
36mm
Height
112mm
MULTI SCREEN WIDE HORIZON
MAXIMUM OUTPUT 3 MONITORS
4K Decode
HDMI
DP
DP
PICTURES
MODEL NAME
GeForce GTX 1650 Transformers 4GD6
GRAPHICS PROCESSING UNIT
NVIDIA® GeForce GTX™ 1650
ENGINE CLOCK
Boost mode: 1590 MHz
Default mode: 1410 MHz
INTERFACE
PCI Express® Gen 3
HEAT SINKS
All aluminum cooling
OUTPUT
1x DisplayPort 1.4
1x HDMI™ 2.0
1x DVI
DIGITAL MAXIMUM RESOLUTION
Digital Max Resolution 7680 x 4320
POWER CONNECTORS
PCI Express X16
RECOMMENDED PSU
Above 350W
3D API
DirectX 12.1
OpenGL 4.6
CARD DIMENSION (MM)
185*113*35 mm
FEATURED FUNCTION
Support Simultaneous Multi-Projection VR image correction technology
VRWorks Audio Virtual Reality Audio Technology
PhysX Physical Acceleration Technology
NVIDIA CUDA
NVIDIA REFLEX
PureVideo HD hardware decoding
Dynamic Super Resolution
MFAA
GeForce 3D Vision
GameWorks™
G-Sync™-Ready
GameStream™-Ready
GeForce ShadowPlay™
GPU Boost™