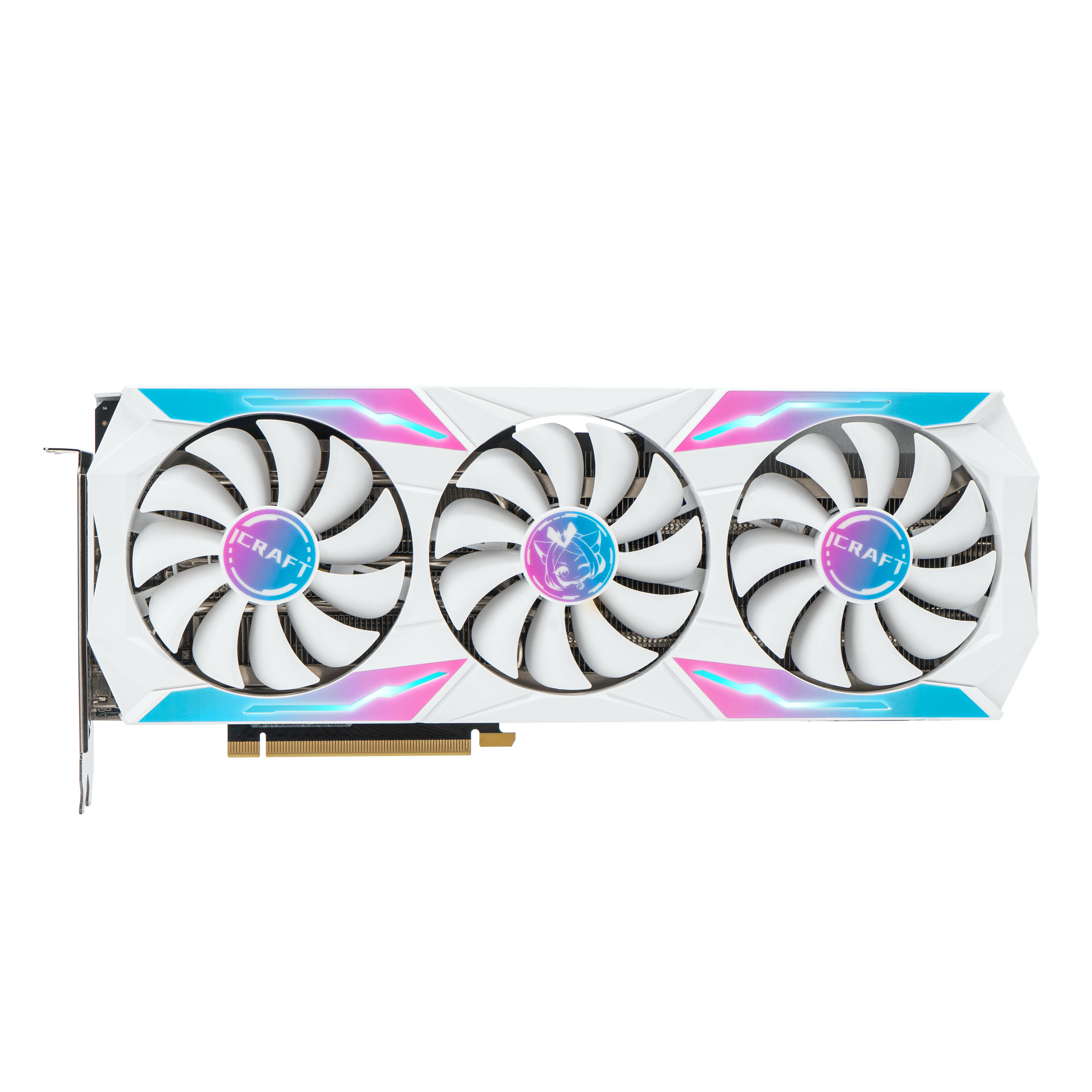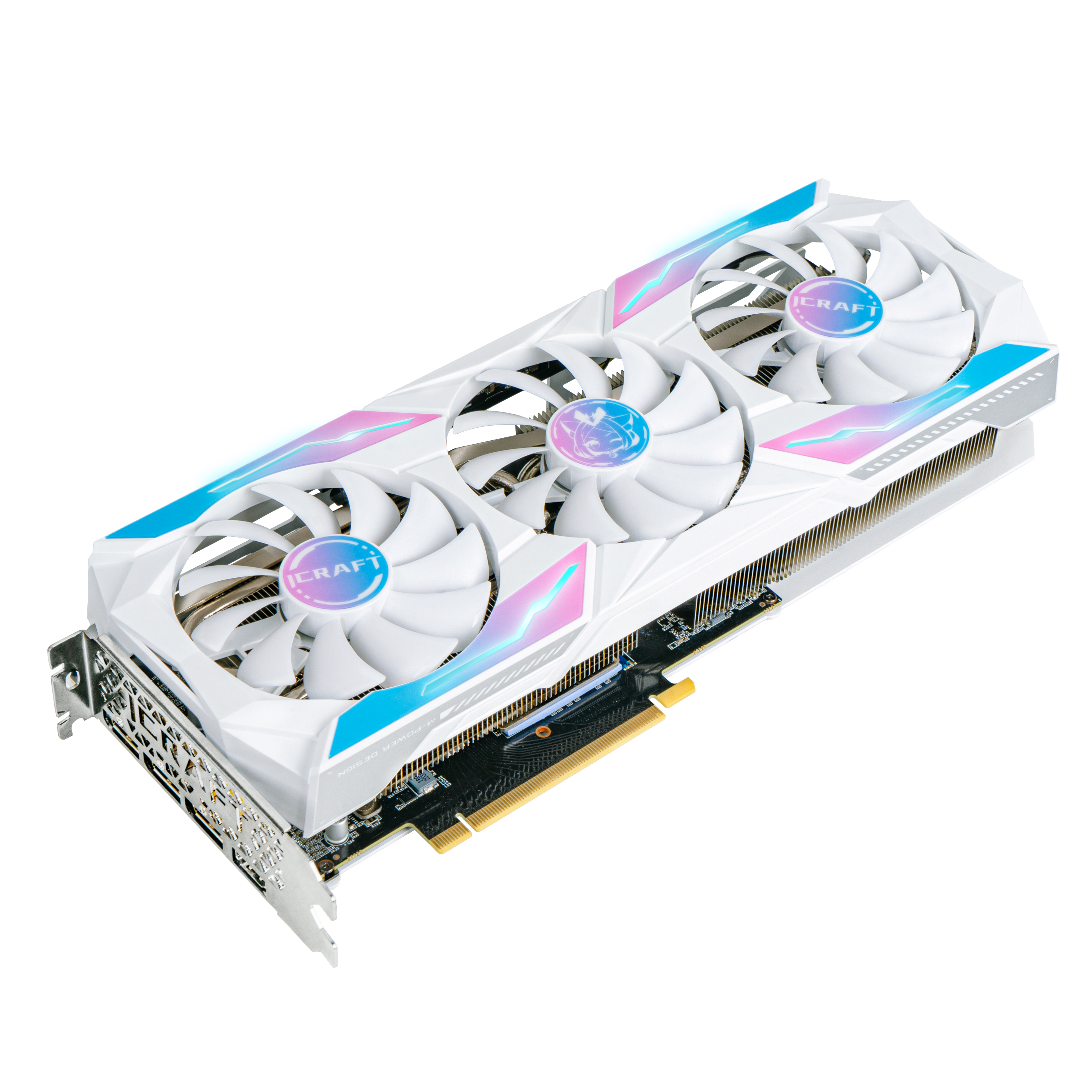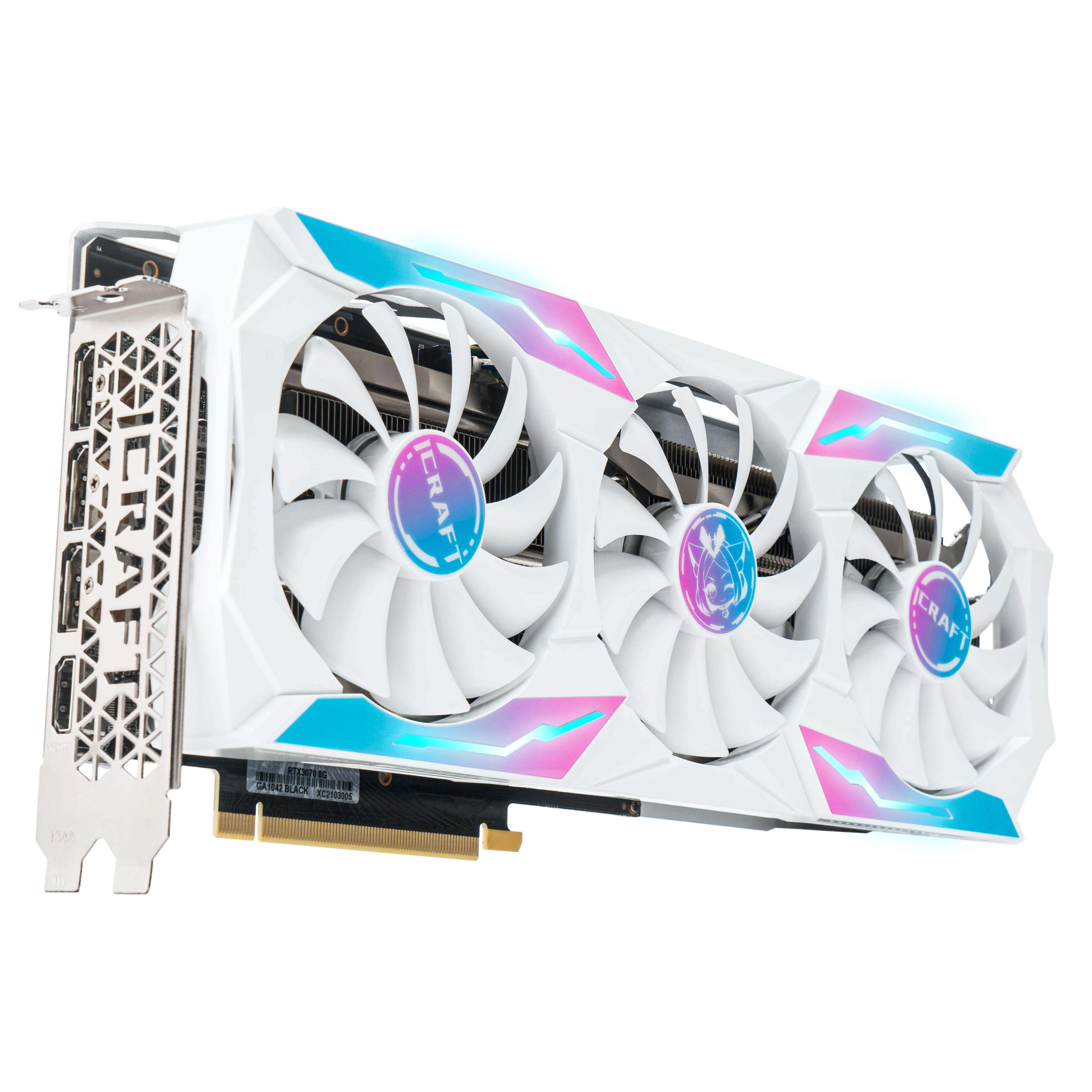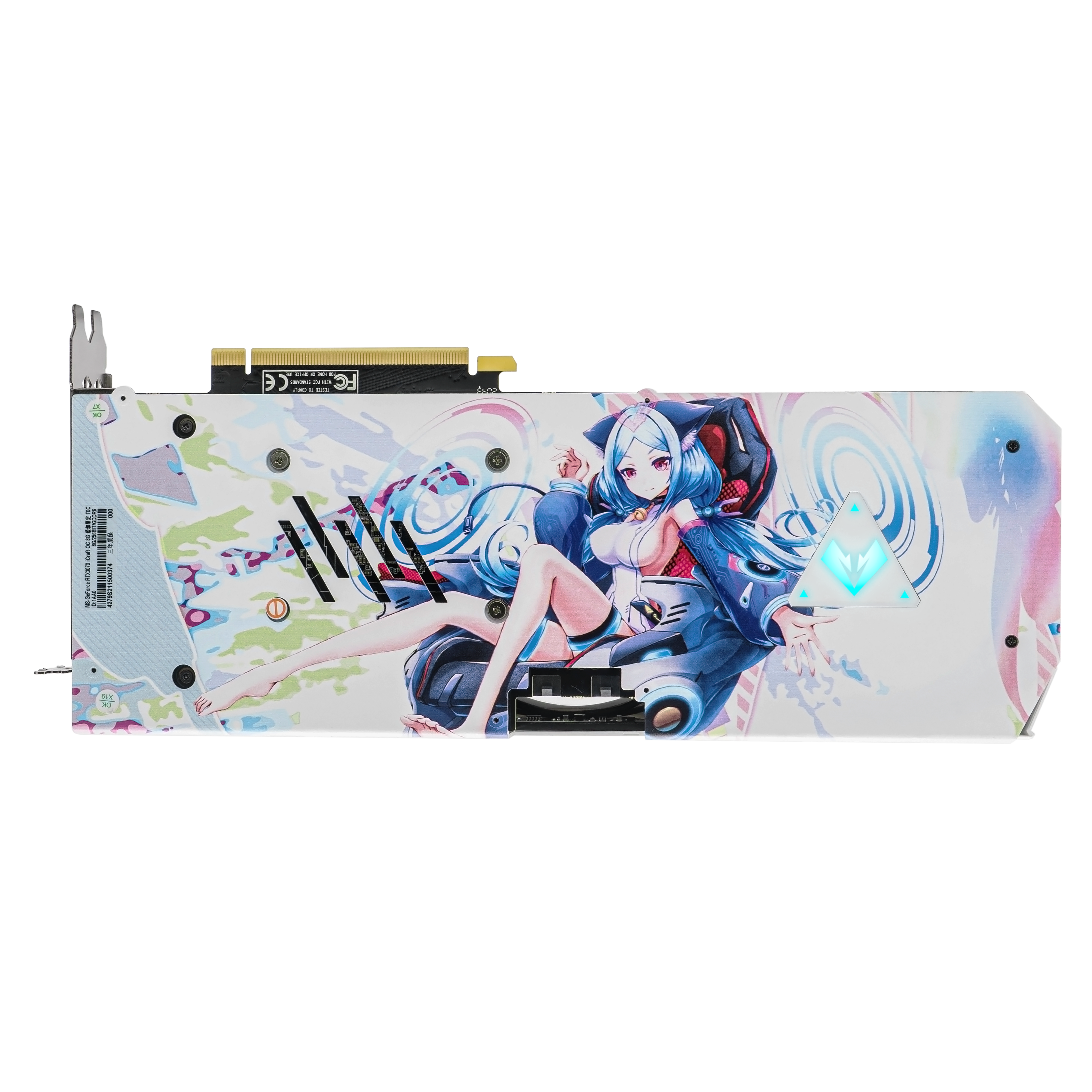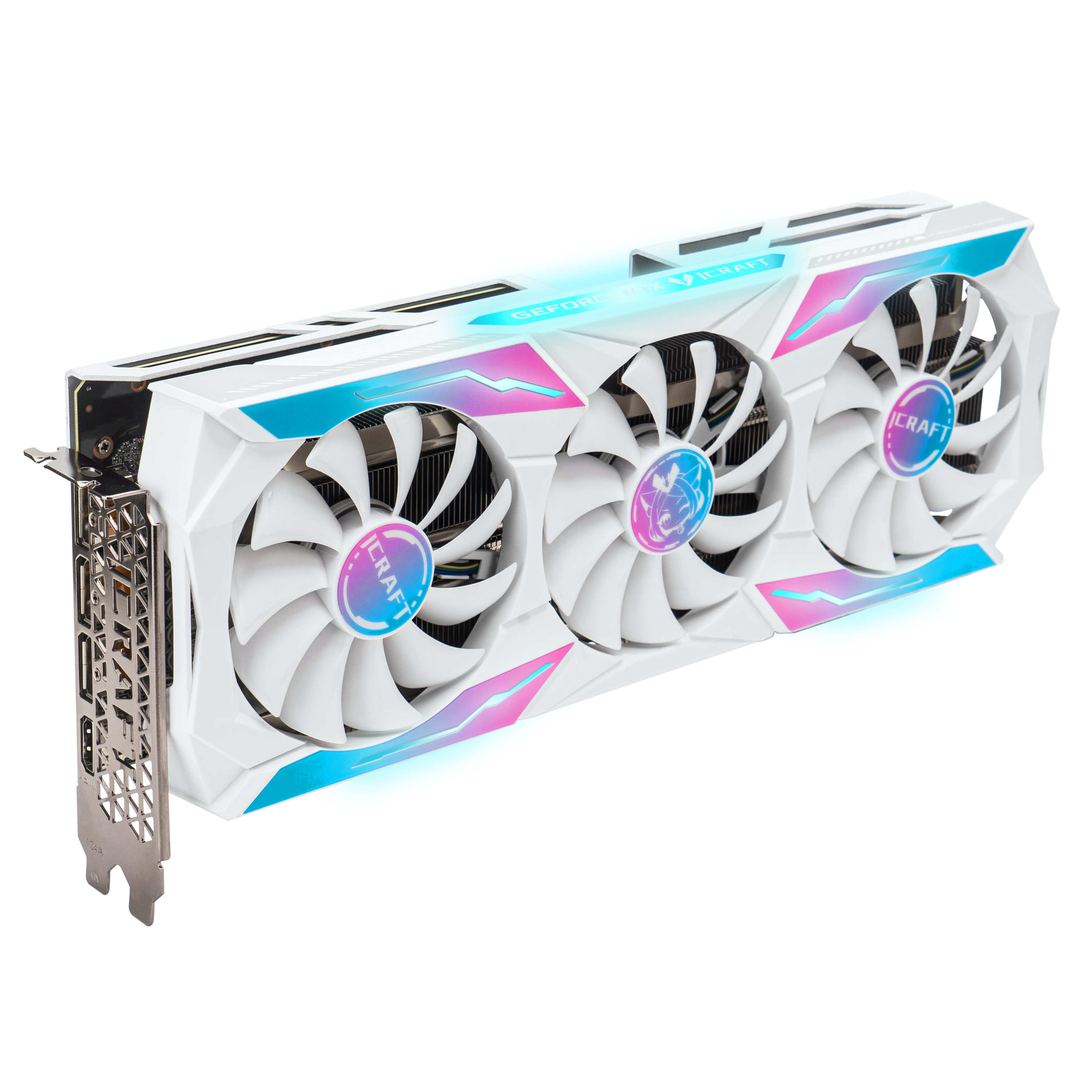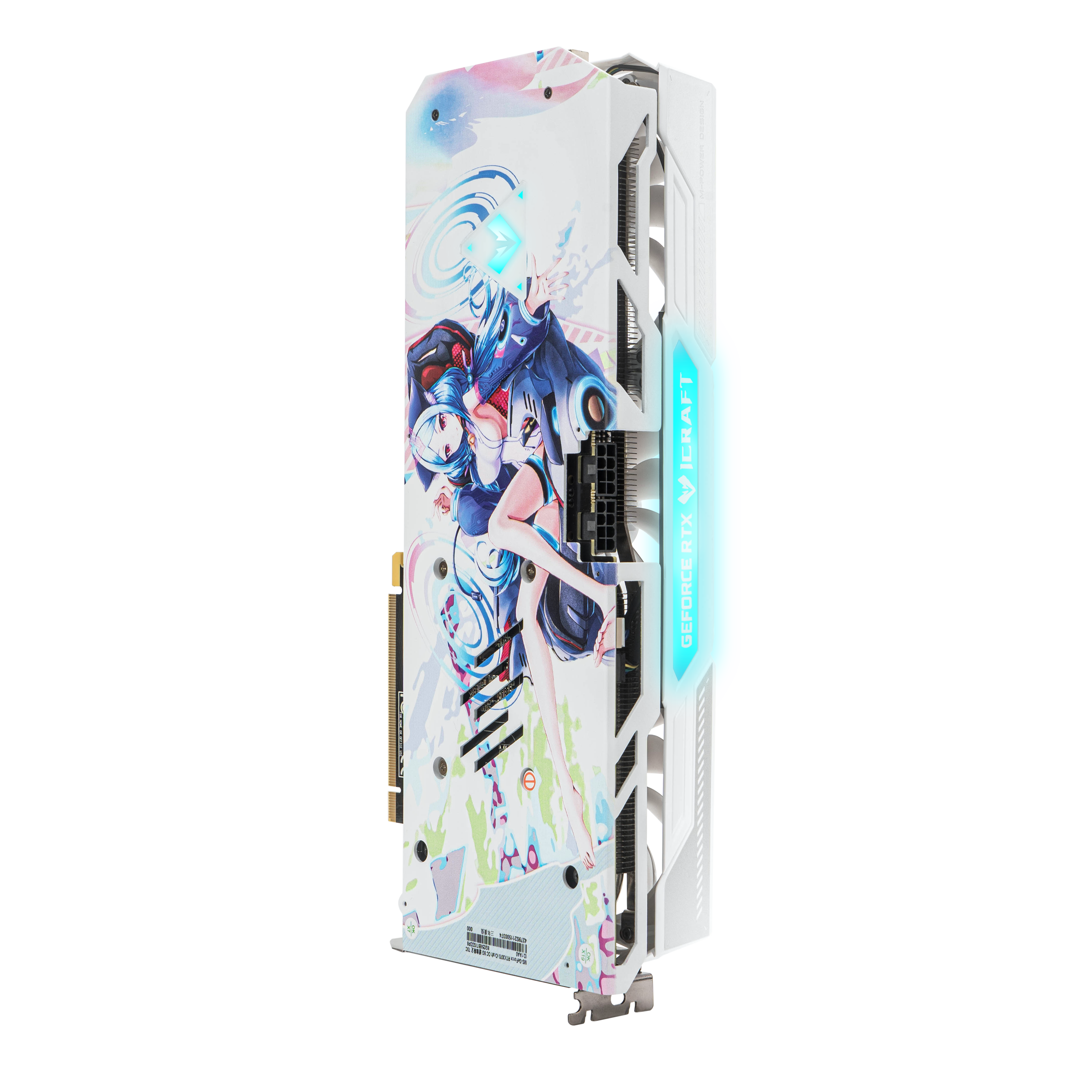 GeForce RTX 3060Ti iCraft OC Limited 8G
---
iCraft Skylight RGB
iCraft Hydromechanics Fan
Huge Powerful Radiator
HD iCraft idol Figure Backplate
NVIDIA DLSS
Ray Tracing
Overview
Specification
Support


MAXSUN GeForce RTX 3060Ti OC 8G iCraft Special Edition
iCraft Story
icraft is a princess in the Meta world, She uses her game talent to capture a
large number of fans, until one day, the daily peace is broken, as the princess,
icraft embarked on a journey to find the heart of gaming
Embrace the love and set off for beauty
RTX 3060Ti performance beyond the previous generation flagship graphics
card, playing the games which in 2K resolution with high fps cheerfully,
Better gaming performance than RTX 2070, RTX. IT'S ON.
ampere
RTX
COOL FORWARD
The third generation 3X 9CM eleven-blades wide custom design fluid
mechanics fan supplemented by a four-phase motor as the power
drive, let your graphics card can keep running as quietly as the no-load
even when running at full load.
iCraft HYDROMECHANICS FAN
Big & Powerful
Huge Powerful Radiator
The cooling fin is thicker & closer then before to make the heatsink is bigger and better cooling performance.
6 liquid cooling heat pipes with a re-flow soldering process, which can significantly enhance the heat transfer efficiency, make your iCraft graphics card has a lower temperature at full load and higher boost frequency.
Singing,
Dreaming
HD iCraft idol figure backplate
Curve design ¹
material of alloy ²
Protect the graphics card and
radiator also prevent cuts when
the computer is building.
Laser printing of iCraft idol figure with the high-strength composite metal material can effectively reinforce the PCB, which is not easy to deform, is not damaged by static electricity and external forces, and the graphics card has a longer life. 
A Shinning Star
iCraft Skylight RGB
Front RGB ¹

Single color breathing lightbar
Side RGB ²

Breathing RGB
Back RGB ³
Single color iCraft logo
breathing light
iCraft Skylight RGB
A new generation of Skylight RGB lighting effects, which can make your
graphics card to a dazzling light in your computer case .
Happy Sharing
Multi screen, multi fun
DP 1.4a * 3
HDMI 2.1*1
Maximum Support quad screens output,
Unlimited your audio, video and gaming
entertainment
1- Up to 4k 12-bit HDR at 240Hz with DP1.4a+DSC.Up to 8k 12-bit HDR at 60Hz with DP
1.4a+DSC or HDMI2.1+DSC. With dual DP1.4a+DSC, up to 8K HDR at 120Hz
2 - Supports 4K 120Hz HDR, 8K 60Hz HDR and Variable Refresh Rate as specified in HDMI 2.1
Go together
Specification
SH0W Y0UR BRAVE HEART
iCraft
skylight

RGB
S.I.P

Power System
M-Power

Design ll

Core code:

GA104(LHR)

CUDA(stream processor)

4864

Core frequency

1410MHz

Core Boost frequency:

1800MHz

Video memory capacity:

8GB

Video memory type:

GDDR6

Video memory bit width

256bit

Bus interface type:

4.0

Power Connector:

8pin+8pin

Display interface(I/O):

DP*3+HDMI*1

TDP:

220W

Recommended system

650W

power supply:

Size:

317*124*53(mm)
MODEL NAME
GeForce RTX 3060Ti iCraft OC Limited 8G
GRAPHICS PROCESSING UNIT
NVIDIA® GeForce RTX™ 3060Ti
ENGINE CLOCK
Boost mode: 1800 MHz
Default mode: 1410 MHz
INTERFACE
PCI Express® Gen 4
HEAT SINKS
New Generation iCraft Cooling System
OUTPUT
3x DisplayPort (v1.4a)
1x HDMI™ (Supports 4K@120Hz HDR, 8K@60Hz HDR, and Variable Refresh Rate as specified in HDMI™ 2.1a)
DIGITAL MAXIMUM RESOLUTION
Digital Max Resolution 7680 x 4320
POWER CONNECTORS
2x 8-pin
RECOMMENDED PSU
Above 650W
3D API
DirectX 12.2
OpenGL 4.6
CARD DIMENSION (MM)
317*124*53 mm
FEATURED FUNCTION
Support Simultaneous Multi-Projection VR image correction technology
VRWorks Audio Virtual Reality Audio Technology
PhysX Physical Acceleration Technology
NVIDIA CUDA
NVIDIA REFLEX
PureVideo HD hardware decoding
Dynamic Super Resolution
MFAA
GeForce 3D Vision
GameWorks™
G-Sync™-Ready
GameStream™-Ready
GeForce ShadowPlay™
GPU Boost™