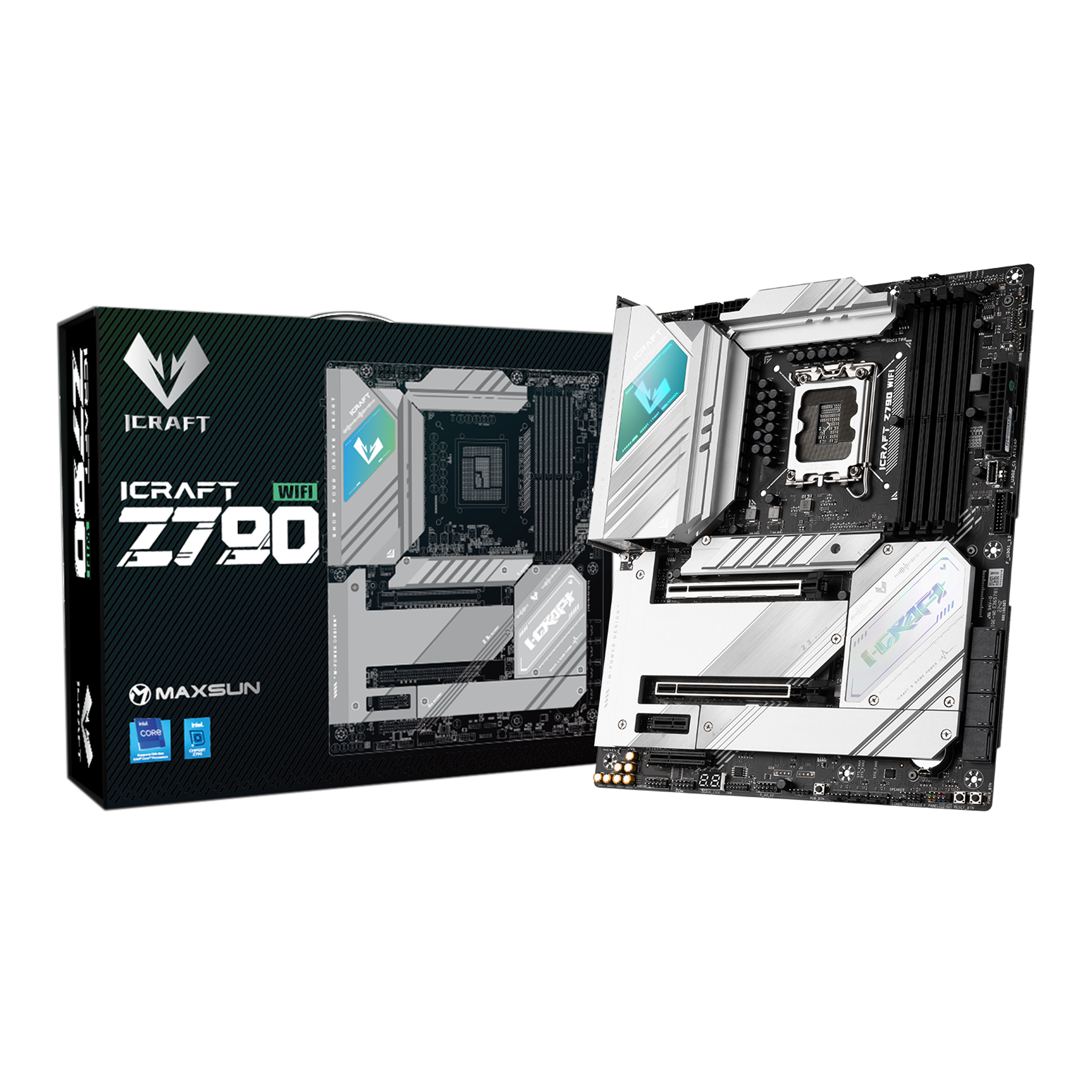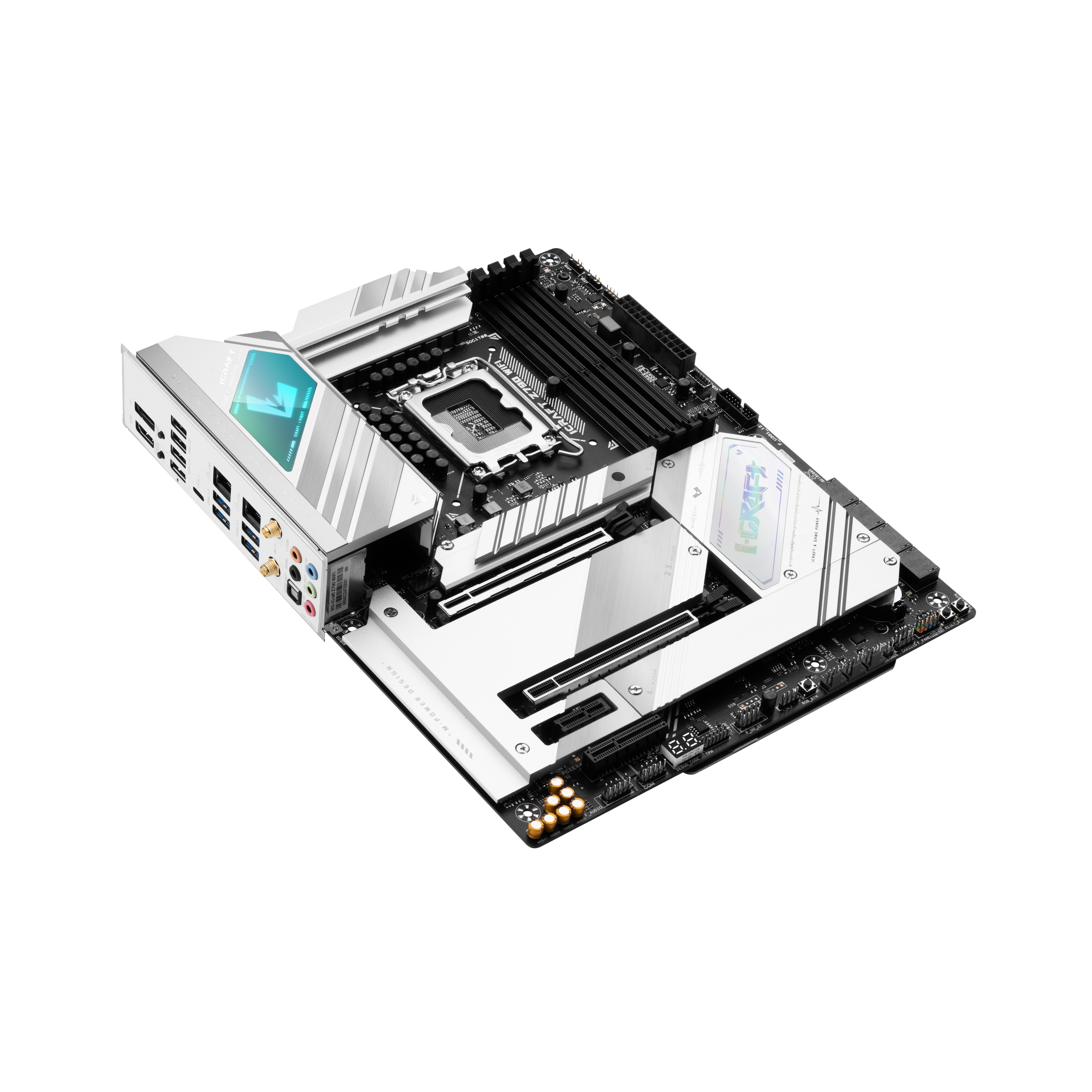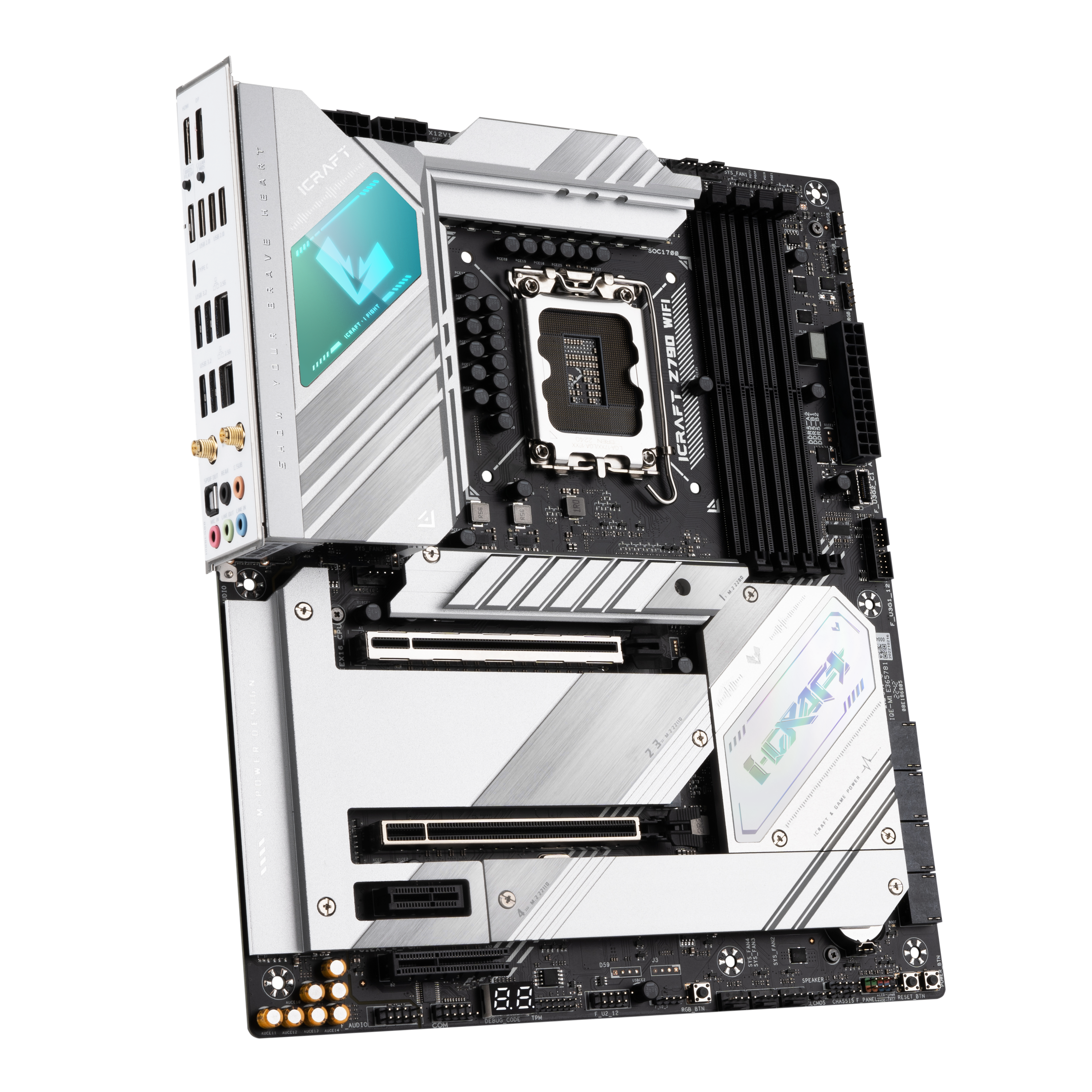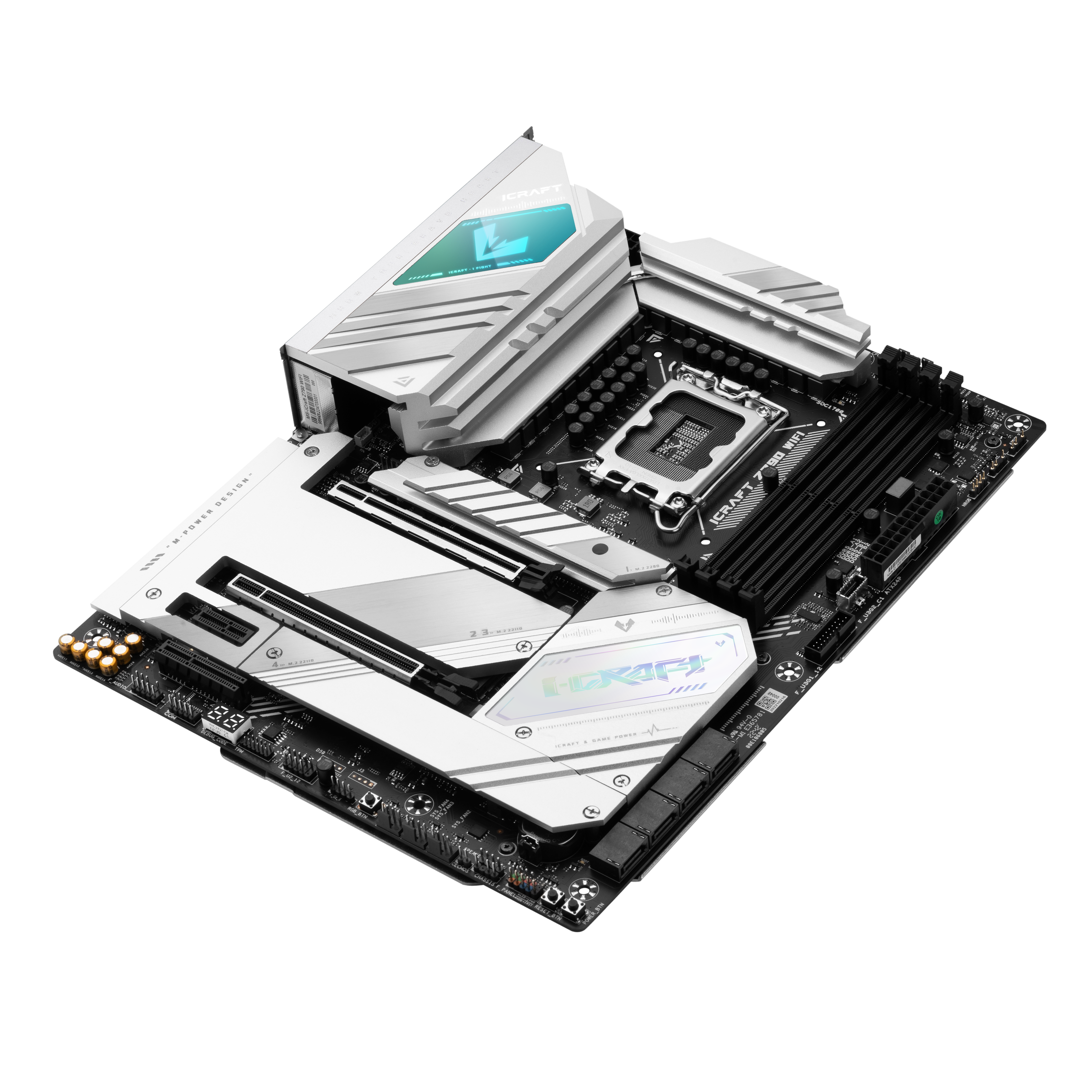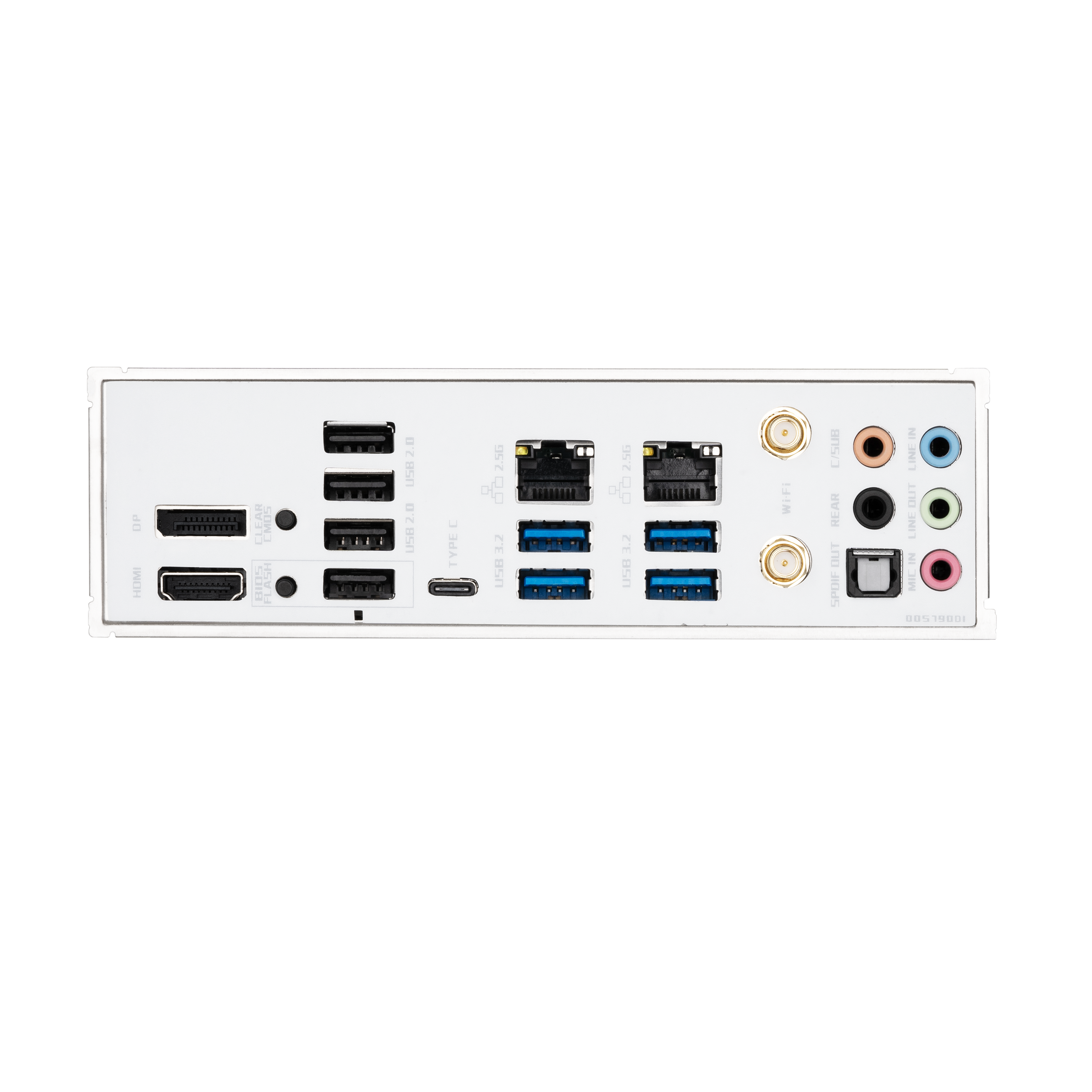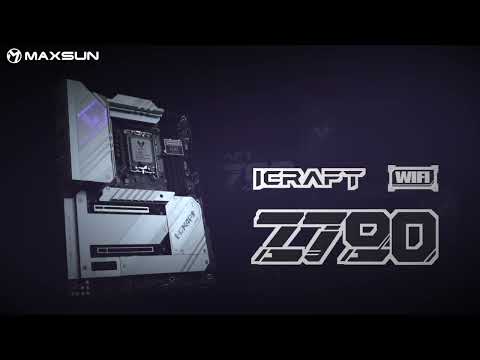 iCraft Z790 WIFI
---
20 phase DR.MOS enhanced power supply

90A High Spec Dr.Mos

RAA229131 PWM

XMP 7600MHz

Dual 20Gbps USB Type-C

Dual 2.5G LAN

Whole plate armor, supply heat pipe

80 digital display Debug & Debug light

Flash and CMOS buttons
OVERVIEW
Beastperformance
20-phase powerful
power supply

Amazingtransmission
Dual20G Type-C
Dual2.5G network card

Strong heatdissipation
Skylight RGB
Alloy ThermalArmor

MS-iCraft Z790 WiFi

ATX board size: 305*245mm

13th & 12th

lntel® Core™ LGA1700 support

Alloy Thermal Armor

19+1 phase direct power supply design
RAA229131PWM master
ISL99390 90A Dr.Mos

USB3.2 Gen2x2
Type-C

Type-C front and rear dual 20G rate

4*PCIe4.0 x4 M.2

Full-speed interface
Support NVMe hard disk

Whole plate thermal armor

Full-cover alloy heat-dissipating armor
6mm nickel-plated copper tube
High-quality thermal silicon strip
skylight RGB lighting effect

DDR5 memory

Support XMP 4800Mhz/OC+
Dual channel 4*DIMM

2.5G wired network card

Realtek RTL8125B network card chip

Humanized and
aconvenient functions

Digital display DEBUG diagnostic light + one-button CLR CMOS

WiFi6E wireless network card

IntelAX211+ Magnetic WIFI Antenna

Powerful power supply
releases the performance of
the 13th generation Core Force

20-phase power supply & integrated Dr.Mos

It adopts 19+1 phase power supply, adopts RAA229131 digital PWM main control chip, and each phase is equipped with 90A Dr.Mos to fully exert the heterogeneous performance of the 13th generation Core, and stimulate its inherent overclocking potential.

19+1
phase power supply

90A
Dr.Mos

RAA229131
PWM main control chip

Alloy cooling
Powerful performance
and stable output

RGB Alloy Thermal Armor & Alloy Back Plate Armor

The heat dissipation armor above the power supply part of the motherboard is connected by a 6mm nickel-plated copper tube, and the contact surface between the armor and the MOS is made of high-quality heat-conducting silicon strips; The four M.2 slots are also equipped with heat dissipation armor, and the full-cover alloy heat dissipation armor helps the performance continue to be stable.

Skylight RGB lighting effects

6mm nickel-plated copper tube

Dual 20G rate Type-C

Data Transfer One Step Faster

The motherboard provides front and rear USB3.2 Gen2x2Type-C interfaces,
and the theoretical transmission speed can reach 20Gbps.

Dual 2.5G network card
&WiFi6E

Foldable antenna design with a magnetic base that
can be attached to the top or side of the case.

Built-in dual 2.5G rate network cards, support link aggregation, increase link bandwidth, realize link transmission flexibility and engineering support independent/group mode, to meet the needs of users who set up a home LAN to build a NAS. At the same time, it is equipped with AX211 wireless network card, which can be used with signal booster antenna to provide stable and high-speed wireless connection.

Dual 2.5G
Wired network port

* The board comes with a magnetic WiFi booster antenna and AX211 wireless network card.

Strong expansion

More mainstream configurations to meet various needs

The motherboard provides 4 M.2 hard disk interfaces, all of which are PCIe4.0x4 rate, all support NVMe protocol, and support Raid array;


Equipped with 1 PCle 5.0x16 alloy armor slot, 1 PCle x4 full-length slot, 1 PCle x4 open slot and 1 PCle x1 slot, providing a variety of expansion options.

PCIe 5.0 x16

PCIe x4

PCIe x1

PCIe x4

Fighting the future of DDR5 & PCle5.0

Equipped with 4 DDR5 memory slots,
strengthened interface, the signal is more stable and pure. Optimized circuit layout, with stronger overclocking capability, the measured XMP stability can reach 7000MHZ.

Equipped with a PCle5.0 alloy armor graphics card slot, with faster transmission, the theoretical bandwidth is as high as 128GB/s, preparing for the new generation of equipment.

7000MHz

128GB/s

Humanized function
convenient maintenance

The motherboard is equipped with a humanized digital display DEBUG diagnostic light, and the user can check the status of the motherboard according to the corresponding display code;

The one-key CLR CMOS at the I/O allows players to quickly reset the computer settings, and the one-key Flash BIOS function allows players to easily

Debug diagnostic light

Reset BIOS

Update BIOS

RGB switch button

Restart button

Power button
SPECIFICATION
CPU
Supports 12th/13th Gen Intel® Core™ Processors, Pentium® Gold and Celeron® Processors
LGA 1700

MEMORY
4x DDR5, Maximum Memory Capacity 192GB
Memory Support DDR5 7000+(OC)/ 6800(OC)/ 6600(OC)/ 6400(OC)/ 6200(OC)/ 6000(OC)/ 5800(OC)/ 5600(JEDEC)/ 5400(JEDEC)/ 5200(JEDEC)/ 5000(JEDEC)/ 4800(JEDEC) MHz
Supports Intel® XMP 3.0 OC
Supports Dual-Controller Dual-Channel mode

ONBOARD GRAPHICS
1x DisplayPort 1.4
1x HDMI™port
*HDMI™ port supports up to 4K@60Hz
*Graphics specifications may vary between CPU types. Please refer to www.intel.com for any updates.

EXPANSION SLOT
1x PCIe 5.0 x16 slot
2x PCIe 3.0 x4 slot
1x PCIe 3.0 x1 slot

STORAGE
M.2_1 slot (Key M), type 2242/2260/2280 (supports PCIe 4.0 x4 mode)
M.2_2 slot (Key M), type 2242/2260/2280/22110 (supports PCIe 4.0 x4 mode)
M.2_3 slot (Key M), type 2242/2260/2280/22110 (supports PCIe 4.0 x4 mode)
M.2_4 slot (Key M), type 2242/2260/2280/22110 (supports PCIe 4.0 x4 mode)
4 x SATA 6Gb/s ports

RAID
Supports RAID 0, RAID 1, RAID 5 and RAID 10 for SATA storage devices

USB
*Front USB (Total 6 ports)
1x USB 3.2 Gen2x2 Type C
2x USB 3.2 Gen1 Type A
3x USB 2.0
*Rear USB (Total 9 ports)
1x USB 3.2 Gen2x2 Type C
4x USB 3.2 Gen1 Type A
4x USB 2.0

LAN
Realtek® RTL8125BG 2.5G LAN

WIRELESS / BLUETOOTH
Intel® Wi-Fi 6E AX211
The Wireless module is pre-installed in the M.2 (Key-E) slot
Supports MU-MIMO TX/RX, 2.4GHz / 5GHz / 6GHz* (160MHz) up to 2.4Gbps
Supports 802.11 a/ b/ g/ n/ ac/ ax
Supports Bluetooth® 5.3

AUDIO
Realtek® ALC897 Codec
7.1-Channel High Definition Audio
Supports S/PDIF output

INTERNAL I/O
1x 24-pin Power Connector(ATX_PWR)
2x 8-pin Power Connector(CPU_PWR)
1x CPU Fan
1x AIO_Pump Fan
4x System Fan
4 x M.2 slots (Key-M)
4x SATA 6Gb/s ports
1x M.2 slots (Key-E)
1x 4-Pin SPEAKER
2x 5V 3-Pin ARGB
1x 12V 4-Pin RGB
1x Clear CMOS
1x Front Audio
1x COM_A Port
1x TPM pin header(Support TPM 2.0)
1x RGB Button
1x POWER Button
1x REBOOT Button

LED FEATURE
4x Distributed Debug LED

OPERATING SYSTEM
Support for Windows® 11 64-bit, Windows® 10 64-bit

FORM FACTOR
ATX
305mm x 245mm
SUPPORT



Beastperformance
20-phase powerful
power supply
Amazingtransmission
Dual20G Type-C
Dual2.5G network card
Strong heatdissipation
Skylight RGB
Alloy ThermalArmor
MS-iCraft Z790 WiFi
ATX board size: 305*245mm
13th & 12th
lntel® Core™ LGA1700 support
Alloy Thermal Armor
19+1 phase direct power supply design
RAA229131PWM master
ISL99390 90A Dr.Mos
USB3.2 Gen2x2
Type-C
Type-C front and rear dual 20G rate
4*PCIe4.0 x4 M.2
Full-speed interface
Support NVMe hard disk
Whole plate thermal armor
Full-cover alloy heat-dissipating armor
6mm nickel-plated copper tube
High-quality thermal silicon strip
skylight RGB lighting effect
DDR5 memory
Support XMP 4800Mhz/OC+
Dual channel 4*DIMM
2.5G wired network card
Realtek RTL8125B network card chip
Humanized and
aconvenient functions
Digital display DEBUG diagnostic light + one-button CLR CMOS
WiFi6E wireless network card
IntelAX211+ Magnetic WIFI Antenna
Powerful power supply
releases the performance of
the 13th generation Core Force
20-phase power supply & integrated Dr.Mos
It adopts 19+1 phase power supply, adopts RAA229131 digital PWM main control chip, and each phase is equipped with 90A Dr.Mos to fully exert the heterogeneous performance of the 13th generation Core, and stimulate its inherent overclocking potential.
19+1
phase power supply
90A
Dr.Mos
RAA229131
PWM main control chip
Alloy cooling
Powerful performance
and stable output
RGB Alloy Thermal Armor & Alloy Back Plate Armor
The heat dissipation armor above the power supply part of the motherboard is connected by a 6mm nickel-plated copper tube, and the contact surface between the armor and the MOS is made of high-quality heat-conducting silicon strips; The four M.2 slots are also equipped with heat dissipation armor, and the full-cover alloy heat dissipation armor helps the performance continue to be stable.
Skylight RGB lighting effects
6mm nickel-plated copper tube
Dual 20G rate Type-C
Data Transfer One Step Faster
The motherboard provides front and rear USB3.2 Gen2x2Type-C interfaces,
and the theoretical transmission speed can reach 20Gbps.
Dual 2.5G network card
&WiFi6E
Foldable antenna design with a magnetic base that
can be attached to the top or side of the case.
Built-in dual 2.5G rate network cards, support link aggregation, increase link bandwidth, realize link transmission flexibility and engineering support independent/group mode, to meet the needs of users who set up a home LAN to build a NAS. At the same time, it is equipped with AX211 wireless network card, which can be used with signal booster antenna to provide stable and high-speed wireless connection.
Dual 2.5G
Wired network port
* The board comes with a magnetic WiFi booster antenna and AX211 wireless network card.
Strong expansion
More mainstream configurations to meet various needs
The motherboard provides 4 M.2 hard disk interfaces, all of which are PCIe4.0x4 rate, all support NVMe protocol, and support Raid array;


Equipped with 1 PCle 5.0x16 alloy armor slot, 1 PCle x4 full-length slot, 1 PCle x4 open slot and 1 PCle x1 slot, providing a variety of expansion options.
PCIe 5.0 x16
PCIe x4
PCIe x1
PCIe x4
Fighting the future of DDR5 & PCle5.0
Equipped with 4 DDR5 memory slots,
strengthened interface, the signal is more stable and pure. Optimized circuit layout, with stronger overclocking capability, the measured XMP stability can reach 7000MHZ.
Equipped with a PCle5.0 alloy armor graphics card slot, with faster transmission, the theoretical bandwidth is as high as 128GB/s, preparing for the new generation of equipment.
7000MHz
128GB/s
Humanized function
convenient maintenance
The motherboard is equipped with a humanized digital display DEBUG diagnostic light, and the user can check the status of the motherboard according to the corresponding display code;

The one-key CLR CMOS at the I/O allows players to quickly reset the computer settings, and the one-key Flash BIOS function allows players to easily
Debug diagnostic light
Reset BIOS
Update BIOS
RGB switch button
Restart button
Power button
CPU
Supports 12th/13th Gen Intel® Core™ Processors, Pentium® Gold and Celeron® Processors
LGA 1700
MEMORY
4x DDR5, Maximum Memory Capacity 192GB
Memory Support DDR5 7000+(OC)/ 6800(OC)/ 6600(OC)/ 6400(OC)/ 6200(OC)/ 6000(OC)/ 5800(OC)/ 5600(JEDEC)/ 5400(JEDEC)/ 5200(JEDEC)/ 5000(JEDEC)/ 4800(JEDEC) MHz
Supports Intel® XMP 3.0 OC
Supports Dual-Controller Dual-Channel mode
ONBOARD GRAPHICS
1x DisplayPort 1.4
1x HDMI™port
*HDMI™ port supports up to 4K@60Hz
*Graphics specifications may vary between CPU types. Please refer to www.intel.com for any updates.
EXPANSION SLOT
1x PCIe 5.0 x16 slot
2x PCIe 3.0 x4 slot
1x PCIe 3.0 x1 slot
STORAGE
M.2_1 slot (Key M), type 2242/2260/2280 (supports PCIe 4.0 x4 mode)
M.2_2 slot (Key M), type 2242/2260/2280/22110 (supports PCIe 4.0 x4 mode)
M.2_3 slot (Key M), type 2242/2260/2280/22110 (supports PCIe 4.0 x4 mode)
M.2_4 slot (Key M), type 2242/2260/2280/22110 (supports PCIe 4.0 x4 mode)
4 x SATA 6Gb/s ports
RAID
Supports RAID 0, RAID 1, RAID 5 and RAID 10 for SATA storage devices
USB
*Front USB (Total 6 ports)
1x USB 3.2 Gen2x2 Type C
2x USB 3.2 Gen1 Type A
3x USB 2.0
*Rear USB (Total 9 ports)
1x USB 3.2 Gen2x2 Type C
4x USB 3.2 Gen1 Type A
4x USB 2.0
LAN
Realtek® RTL8125BG 2.5G LAN
WIRELESS / BLUETOOTH
Intel® Wi-Fi 6E AX211
The Wireless module is pre-installed in the M.2 (Key-E) slot
Supports MU-MIMO TX/RX, 2.4GHz / 5GHz / 6GHz* (160MHz) up to 2.4Gbps
Supports 802.11 a/ b/ g/ n/ ac/ ax
Supports Bluetooth® 5.3
AUDIO
Realtek® ALC897 Codec
7.1-Channel High Definition Audio
Supports S/PDIF output
INTERNAL I/O
1x 24-pin Power Connector(ATX_PWR)
2x 8-pin Power Connector(CPU_PWR)
1x CPU Fan
1x AIO_Pump Fan
4x System Fan
4 x M.2 slots (Key-M)
4x SATA 6Gb/s ports
1x M.2 slots (Key-E)
1x 4-Pin SPEAKER
2x 5V 3-Pin ARGB
1x 12V 4-Pin RGB
1x Clear CMOS
1x Front Audio
1x COM_A Port
1x TPM pin header(Support TPM 2.0)
1x RGB Button
1x POWER Button
1x REBOOT Button
LED FEATURE
4x Distributed Debug LED
OPERATING SYSTEM
Support for Windows® 11 64-bit, Windows® 10 64-bit
FORM FACTOR
ATX
305mm x 245mm