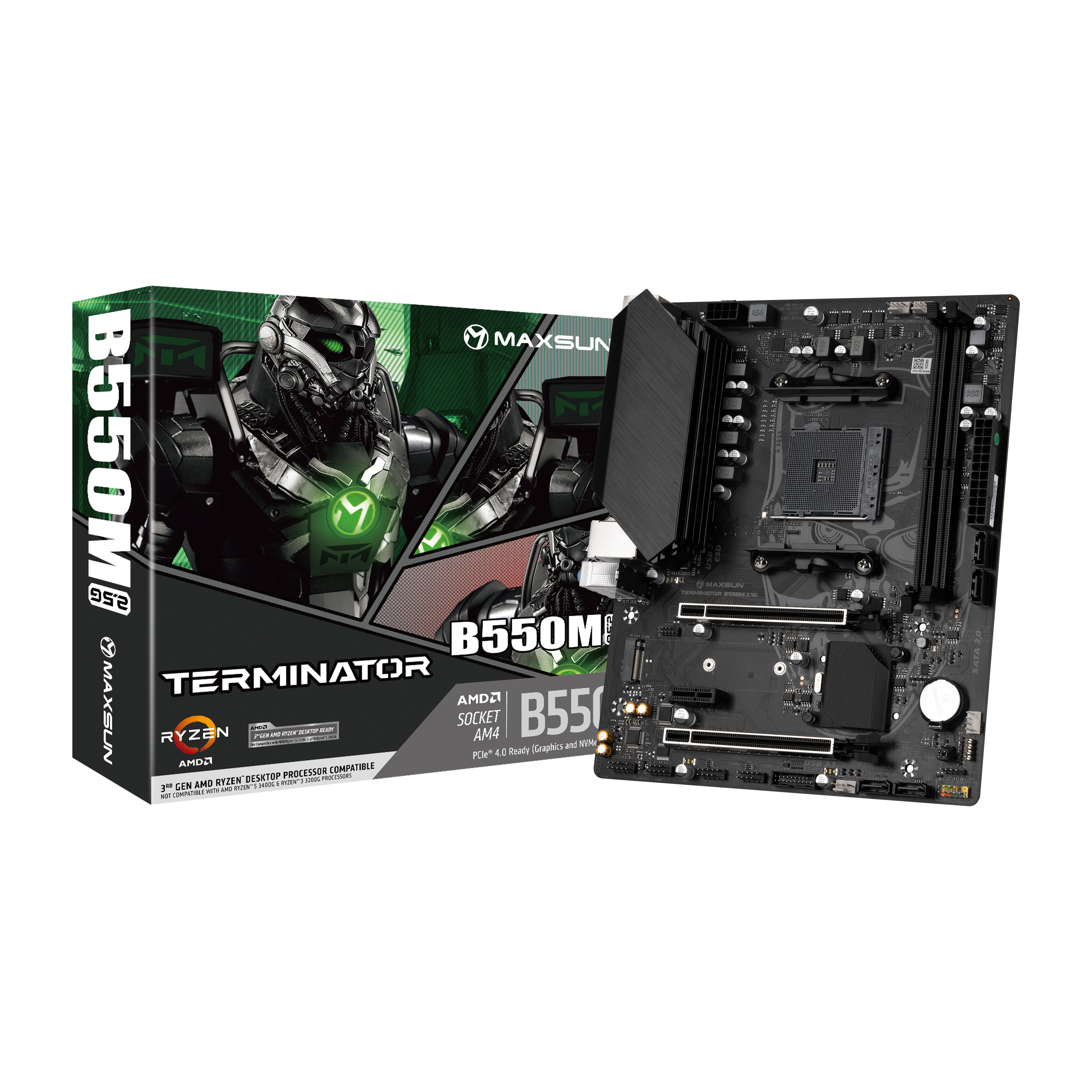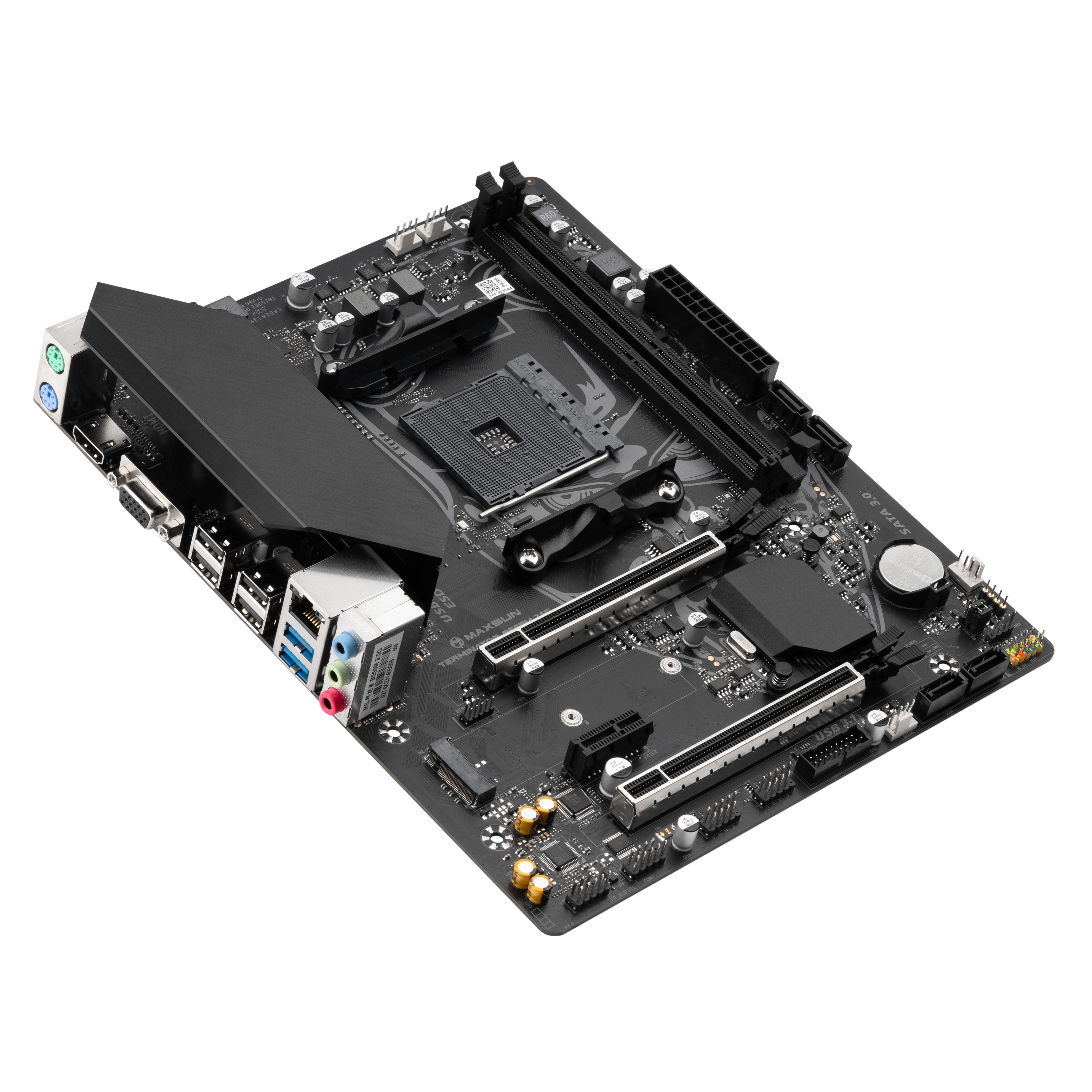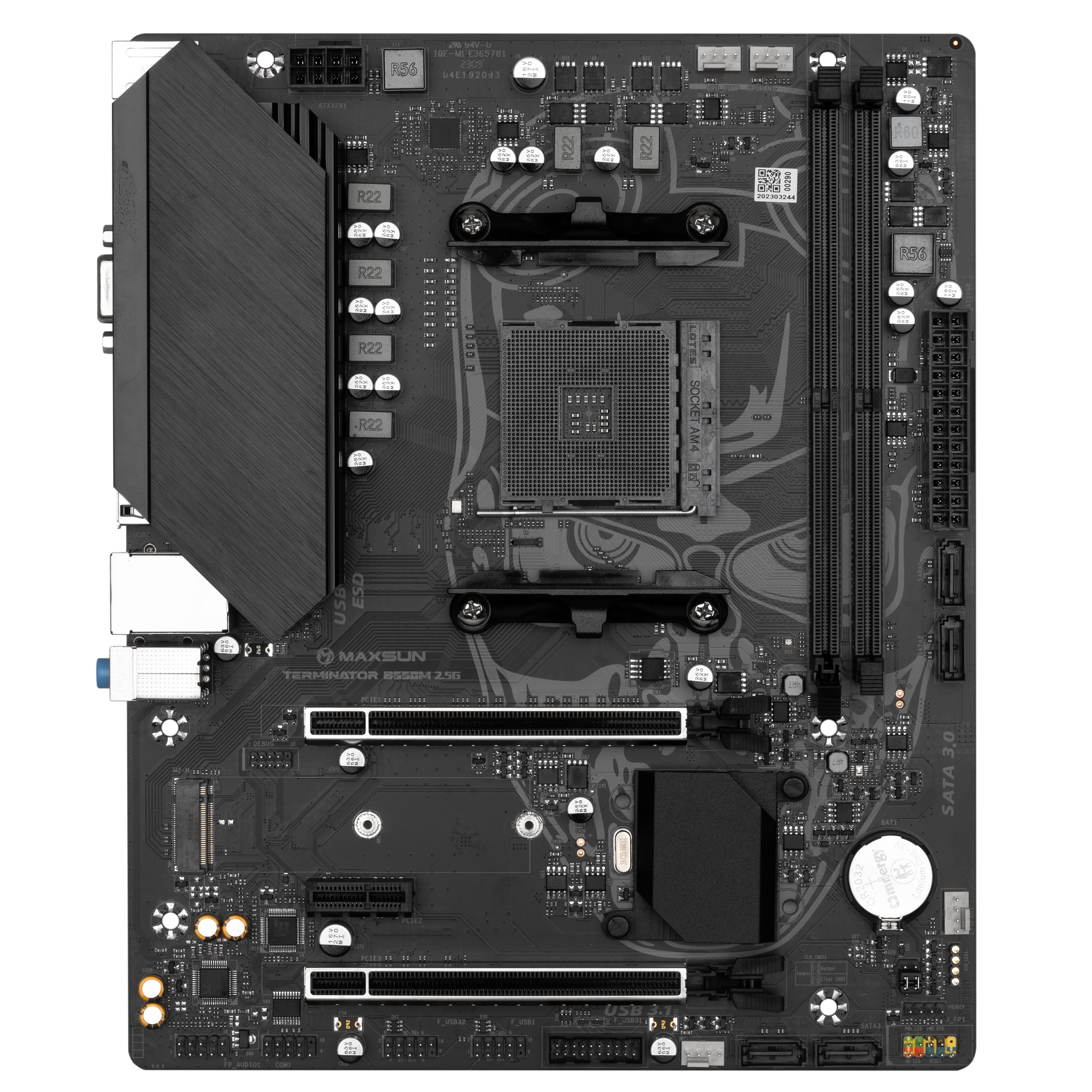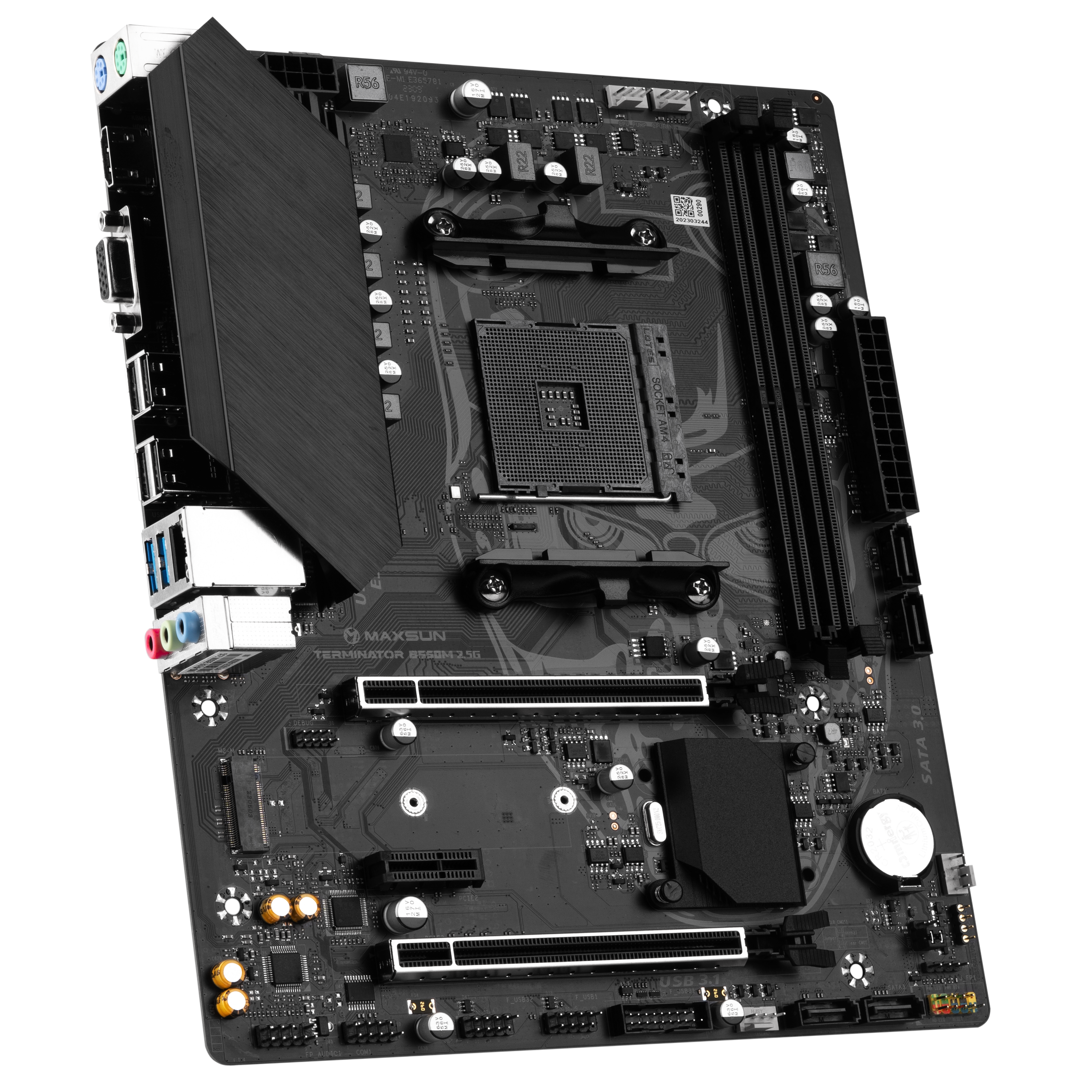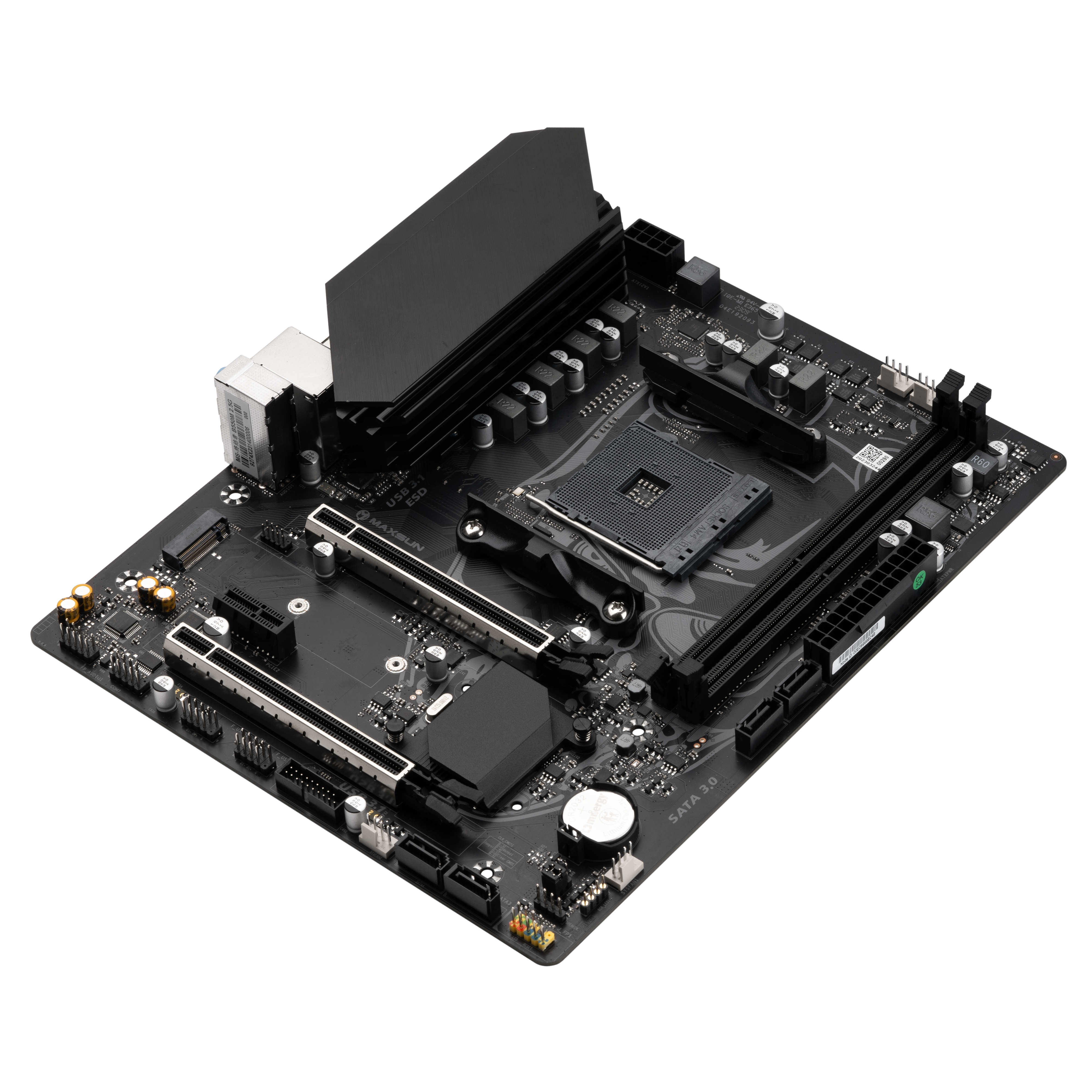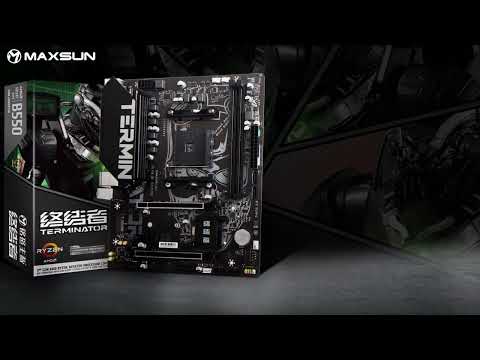 Terminator B550M 2.5G
---
6 Phases enhanced power supply
R5 5600X stable OC 4.6Ghz
XMP 3800MHz
Alloy cooling armor
2.5G Ethernet
PCIE 4.0
OVERVIEW
MS-TERMINATOR B550M 2.5G

RT8894

PWM Power
Supply Contral

2.5G

Ethernet

4.2GHz

R5 3600
Stable Overclocking

3800MHz

XMP Memory
Overclocking

6 Phases Power Stage
PWM RT8894

HDMI

VGA

USB3.1

2.5G Ethernet

5.1 HD Audio

PCIE x 16

PCIE x 1

Audio
Enhancement
Custom Audio
Capacitors

Enhanced
power supply
24 MOS

Dual DDR4
XMP-3800MHz

PCIE4.0 M.2
(2242/2280,
SATA/NVME)

SATA 6GB/s

AMD B550
Chipset

Front USB 3.1

PS/2

HDMI

VGA

USB2.0

USB2.0

USB3.1

2.5G Ethernet

HD Audio

PWM POWER CONTRAL
-Same as Mortar

Adopt Richtek RT8894 consistent with Mortar, more stable

6 PHASES DIGITAL POWER

R22 Ultra Low
Temperature
Coil Solid
State Inductor

24 Low
Internal
Resistance
MOS

STABLE OVERCLOCKING

RT8894 PWM power supply control scheme +
6 phases digital power supply + 24 MOS
= R5 5600X stable overclocking to 4.6GHz.

3.6GHz

4.6GHz

XMP 3800MHz

Memory XMP up to 3800MHz 1:1:1 model-Lower latency

LARGE HEATSINK

The motherboard adopts a newly designed alloy heat
dissipation armor - increasing more heat dissipation area

VRM Heatsinks with
Underneath Thermal Pads

Southbridge Hollow Heatsinks

HIGH SPEED M.2 SLOT

Equipped with PCIE4.0 M.2 slots
-Data transmission speed up to 6400mb/s

2 STAINLESS STEEL
GRAPHICS CARD SLOTS

Effectively improve the support for large
and heavy graphics cards, extend slots'lifespan
SPECIFICATION
CHIPSET
AMD® B550 Chipset

CPU (Max Support)
AMD Socket AM4, support for: AMD Ryzen™ 5000 G-Series Processors/ AMD Ryzen™ 5000 Series Processors/ AMD Ryzen™ 4000 G-Series Processors/ AMD Ryzen™ 3000 Series Processors

MEMORY
2x DDR4, Maximum Memory Capacity 64GB
Memory Support DDR4 3800(O.C.) / 3733(O.C.) / 3666(O.C.) / 3600(O.C.) / 3200 / 3000 / 2933 / 2666 / 2400 / 2133 MHz
Supports AMD® A-XMP OC
Supports Dual-Controller Dual-Channel mode

ONBOARD GRAPHICS
1x VGA
*Support VGA, maximum resolution of 2048x1536 50Hz, 2048x1280 60Hz, 1920x1200 60Hz
1x HDMI™port
*HDMI™ port supports up to 4K@30Hz
*Graphics specifications may vary between CPU types.

EXPANSION SLOT
1x PCIe 4.0 x16 slot
1x PCIe 3.0 x4 slot
1x PCIe 3.0 x1 slot

STORAGE
M.2 slot (Key M), type 2242/2280 (supports PCIe 4.0 x4 mode)
4x SATA 6Gb/s ports

RAID
Supports RAID 0, RAID 1, RAID 5 and RAID 10 for SATA storage devices

USB
*Front USB (Total 6 ports)
2x USB 3.2 Gen1 Type A
4x USB 2.0
*Rear USB (Total 6 ports)
2x USB 3.2 Gen1 Type A
4x USB 2.0

LAN
Realtek® RTL8125BG 2.5G LAN

AUDIO
Realtek® ALC897 Codec
5.1-Channel High Definition Audio

INTERNAL I/O
1x 24-pin Power Connector(ATX_PWR)
1x 8-pin Power Connector(CPU_PWR)
1x CPU Fan
2x System Fan
1x PS/2 interface
1x M.2 slots (Key-M)
4x SATA 6Gb/s ports
1x 4-Pin SPEAKER
1x Front Audio
1x COM_A Port
1x 9-Pin DEBUG_CON
1x CLR CMOS

LED FEATURE
Without Debug LED

OPERATING SYSTEM
Support for Windows® 11 64-bit, Windows® 10 64-bit

FORM FACTOR
M-ATX
245mm x 200mm
SUPPORT


MS-TERMINATOR B550M 2.5G
RT8894
PWM Power
Supply Contral
2.5G
Ethernet
4.2GHz
R5 3600
Stable Overclocking
3800MHz
XMP Memory
Overclocking
6 Phases Power Stage
PWM RT8894
HDMI
VGA
USB3.1
2.5G Ethernet
5.1 HD Audio
PCIE x 16
PCIE x 1
Audio
Enhancement
Custom Audio
Capacitors
Enhanced
power supply
24 MOS
Dual DDR4
XMP-3800MHz
PCIE4.0 M.2
(2242/2280,
SATA/NVME)
SATA 6GB/s
AMD B550
Chipset
Front USB 3.1
PS/2
HDMI
VGA
USB2.0
USB2.0
USB3.1
2.5G Ethernet
HD Audio
PWM POWER CONTRAL
-Same as Mortar
Adopt Richtek RT8894 consistent with Mortar, more stable
6 PHASES DIGITAL POWER
R22 Ultra Low
Temperature
Coil Solid
State Inductor
24 Low
Internal
Resistance
MOS
STABLE OVERCLOCKING
RT8894 PWM power supply control scheme +
6 phases digital power supply + 24 MOS
= R5 5600X stable overclocking to 4.6GHz.
3.6GHz
4.6GHz
XMP 3800MHz
Memory XMP up to 3800MHz 1:1:1 model-Lower latency
LARGE HEATSINK
The motherboard adopts a newly designed alloy heat
dissipation armor - increasing more heat dissipation area
VRM Heatsinks with
Underneath Thermal Pads
Southbridge Hollow Heatsinks
HIGH SPEED M.2 SLOT
Equipped with PCIE4.0 M.2 slots
-Data transmission speed up to 6400mb/s
2 STAINLESS STEEL
GRAPHICS CARD SLOTS
Effectively improve the support for large
and heavy graphics cards, extend slots'lifespan
CHIPSET
AMD® B550 Chipset
CPU (Max Support)
AMD Socket AM4, support for: AMD Ryzen™ 5000 G-Series Processors/ AMD Ryzen™ 5000 Series Processors/ AMD Ryzen™ 4000 G-Series Processors/ AMD Ryzen™ 3000 Series Processors
MEMORY
2x DDR4, Maximum Memory Capacity 64GB
Memory Support DDR4 3800(O.C.) / 3733(O.C.) / 3666(O.C.) / 3600(O.C.) / 3200 / 3000 / 2933 / 2666 / 2400 / 2133 MHz
Supports AMD® A-XMP OC
Supports Dual-Controller Dual-Channel mode
ONBOARD GRAPHICS
1x VGA
*Support VGA, maximum resolution of 2048x1536 50Hz, 2048x1280 60Hz, 1920x1200 60Hz
1x HDMI™port
*HDMI™ port supports up to 4K@30Hz
*Graphics specifications may vary between CPU types.
EXPANSION SLOT
1x PCIe 4.0 x16 slot
1x PCIe 3.0 x4 slot
1x PCIe 3.0 x1 slot
STORAGE
M.2 slot (Key M), type 2242/2280 (supports PCIe 4.0 x4 mode)
4x SATA 6Gb/s ports
RAID
Supports RAID 0, RAID 1, RAID 5 and RAID 10 for SATA storage devices
USB
*Front USB (Total 6 ports)
2x USB 3.2 Gen1 Type A
4x USB 2.0
*Rear USB (Total 6 ports)
2x USB 3.2 Gen1 Type A
4x USB 2.0
LAN
Realtek® RTL8125BG 2.5G LAN
AUDIO
Realtek® ALC897 Codec
5.1-Channel High Definition Audio
INTERNAL I/O
1x 24-pin Power Connector(ATX_PWR)
1x 8-pin Power Connector(CPU_PWR)
1x CPU Fan
2x System Fan
1x PS/2 interface
1x M.2 slots (Key-M)
4x SATA 6Gb/s ports
1x 4-Pin SPEAKER
1x Front Audio
1x COM_A Port
1x 9-Pin DEBUG_CON
1x CLR CMOS
LED FEATURE
Without Debug LED
OPERATING SYSTEM
Support for Windows® 11 64-bit, Windows® 10 64-bit
FORM FACTOR
M-ATX
245mm x 200mm