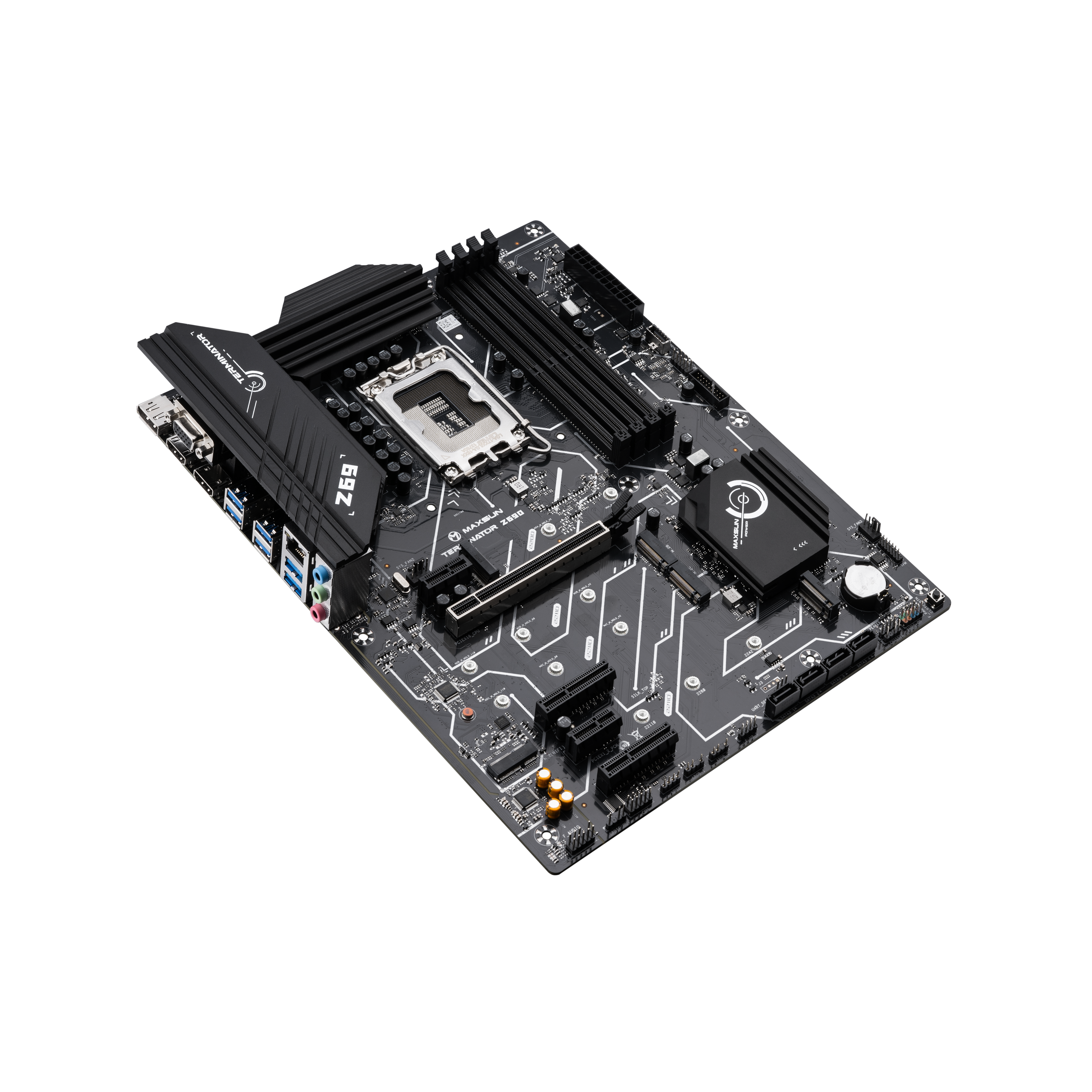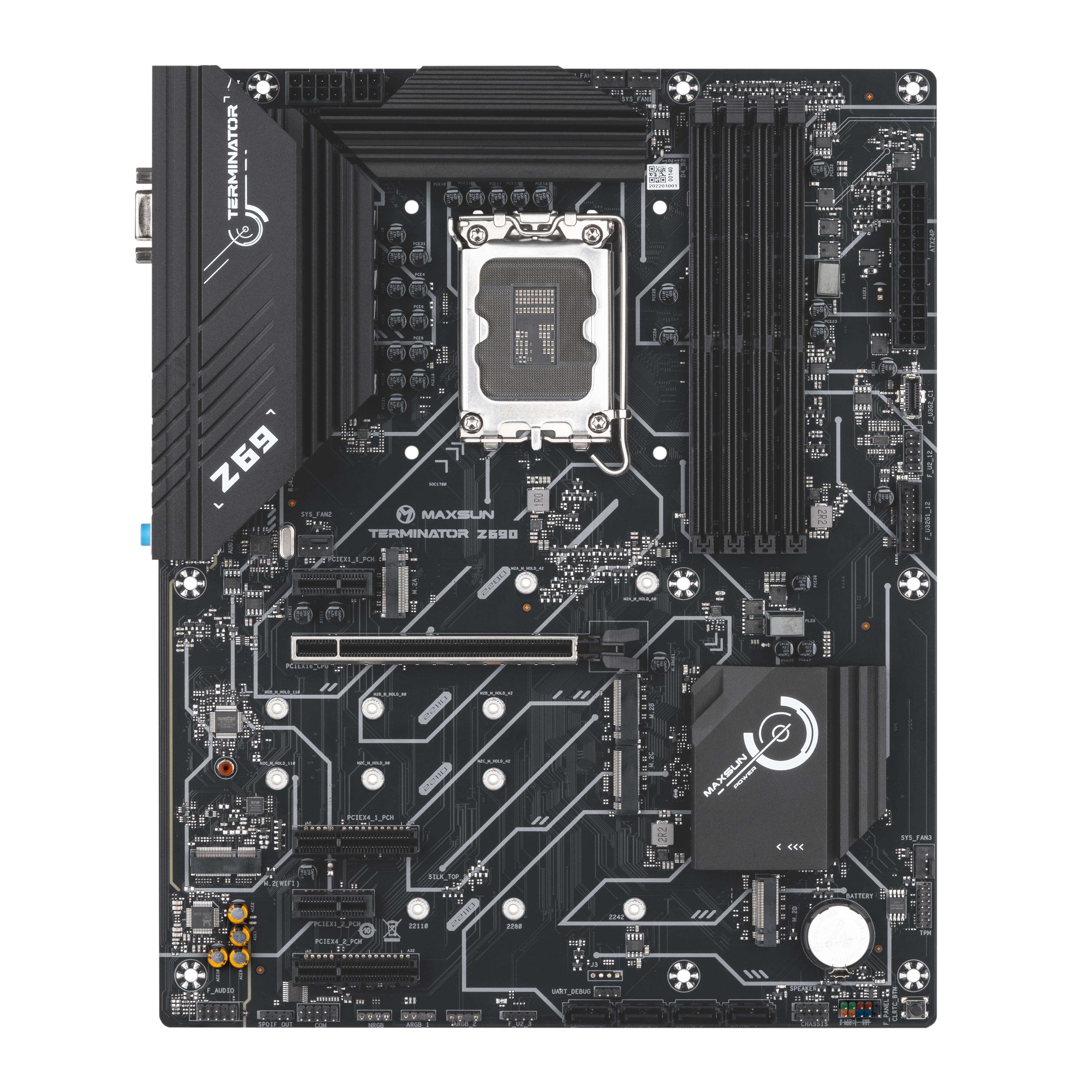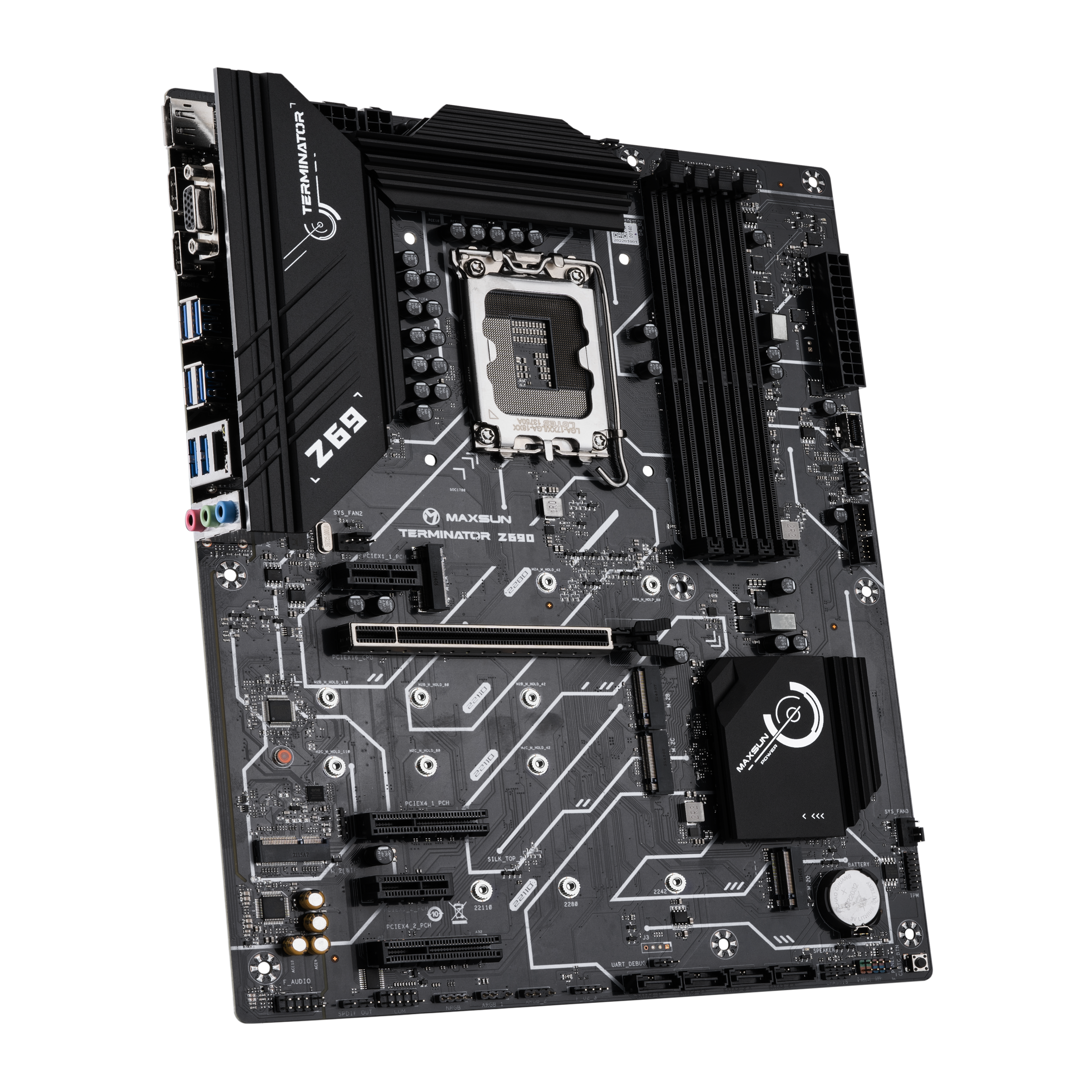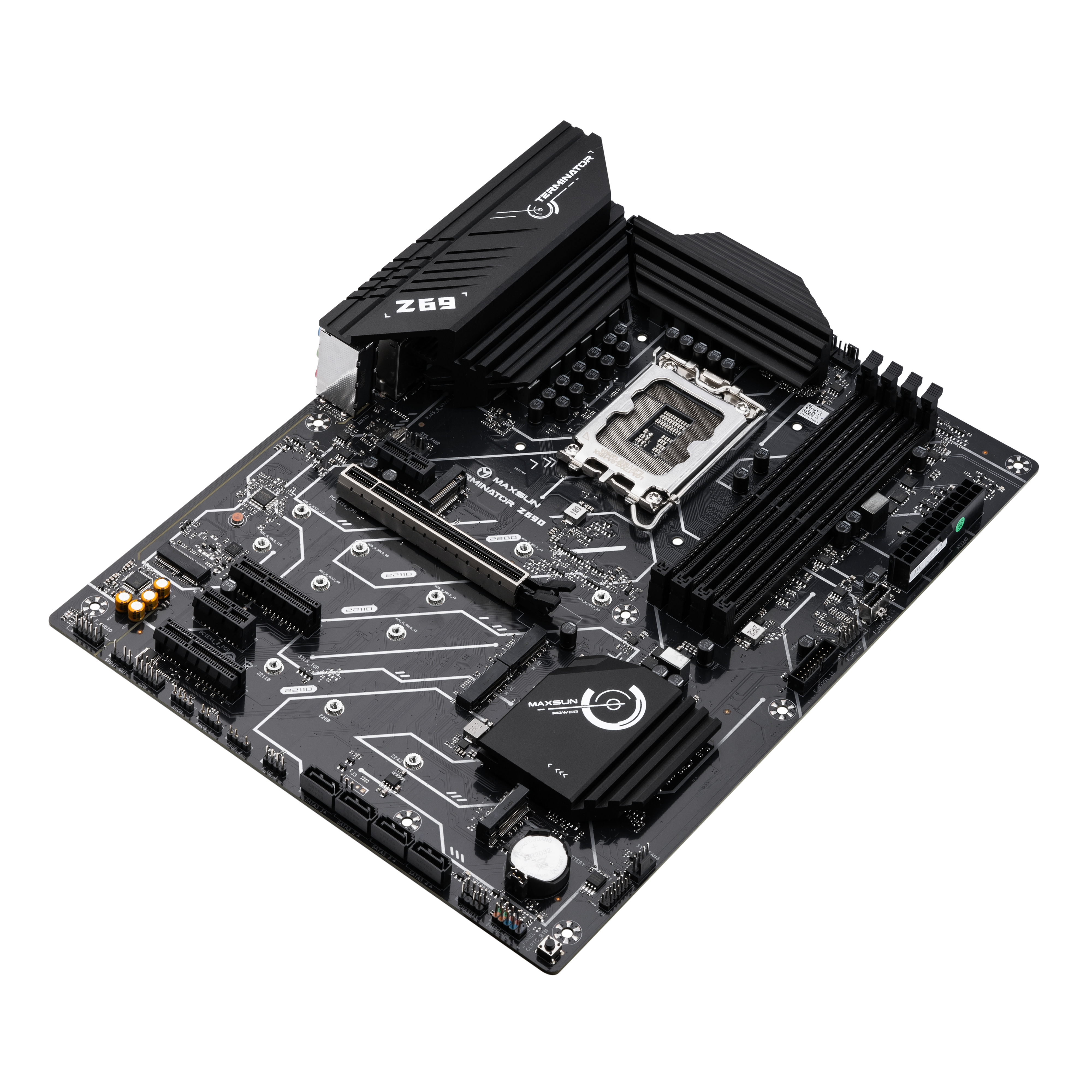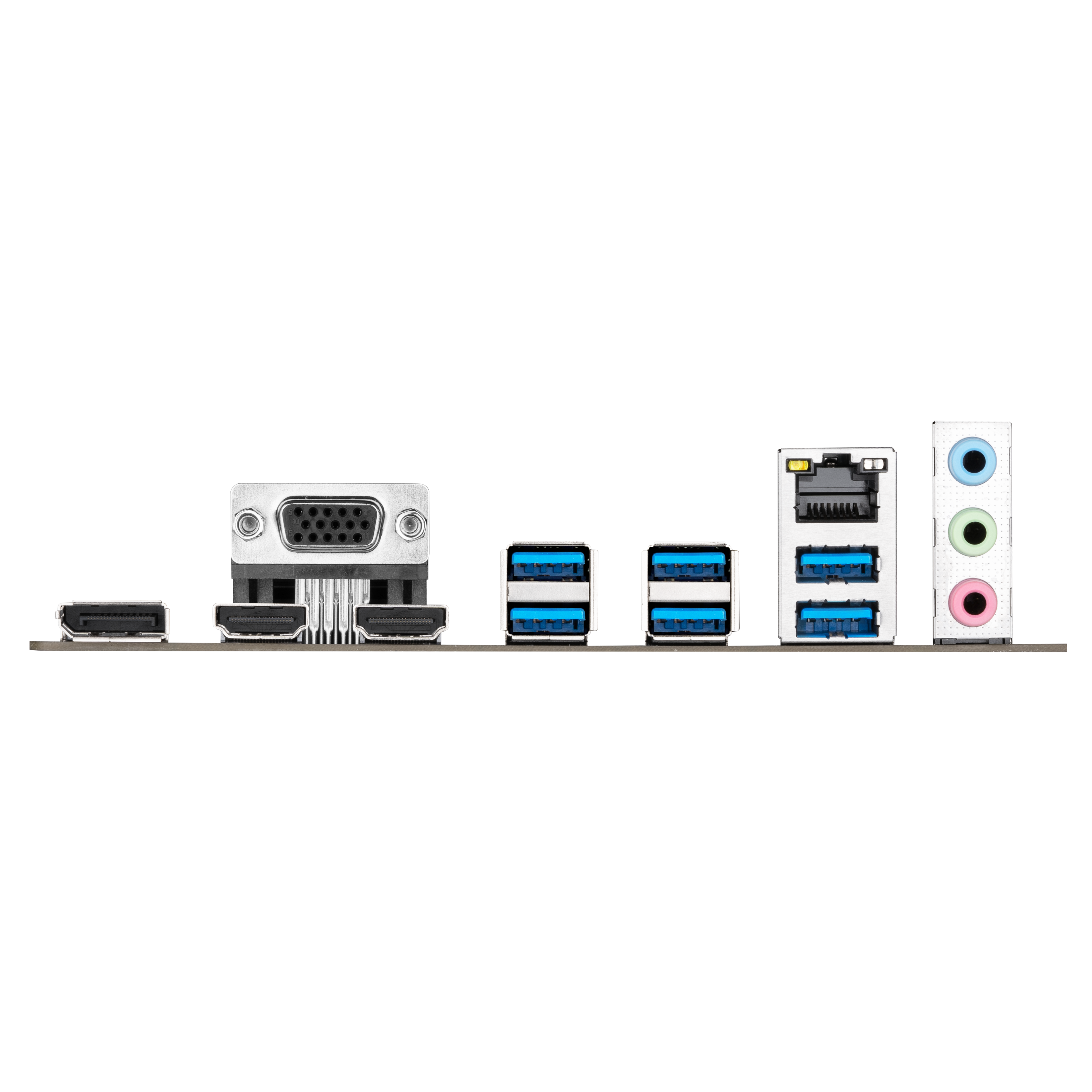 Terminator Z690 D4
---
8+1+1 phase enhanced power supply
High specification Dr. Mos
Lower power supply temperature and more stable
Access to 3 full-length PCIe devices
Support 4 M.2 solid state drives
1 M.2 wireless NIC interface
Full interface conflict-free
Overview
Specification
Support


50A Dr. Mos
10 Phases Power Supply
(PWM Control)
2 Heatsinks
6* USB3.2 (5G)
Wireless Network Card
Interface
4* M.2 (PCIE4.0 X 4)
4* DDR4 (5000MHz+)
Front 10G TypeC
PCIE4.0 X 16 Slots
2* PCIE3.0 X 4 Open Slots
Distributed Debug Lights
2* ARGB + 1* NRGB
DP
HDMI
VGA
HDMI
2.5G Ethernet
6*USB3.2 Gen1
HD Audio
Dr.Mos POWER SUPPLY
SIC654 Dr. MOS
Single 50A,
easily carry 16-core processor
10 Phases Power Supply
Lower resistance PCB
Complete IMPV9.1
LGA 1700
Dr.Mos
VS
Traditional Design
High Side MOSFET
Deiver IC
Low Side MOSFET
3 in 1

design
1/4
the size of
the traditional
3X

power density
Low Side
MOSFET
Deiver IC
High Side
MOSFET
Maxsun B660M
Traditional Design
MORE EFFICIENT
HEAT DISSIPATION STRUCTURE
Large area strengtheningstainless steel
Peak-ridge heatdissipation structure
Heat Exchange Area
Peak-ridge structure
Common structure
Efficient Memory Routing
BIOS Deep Optimization
Potential of Gear 1-4266MHz (OC)
DaisyChain Enhanced Wiring (Dual Channel Four Slots)
8-Layer PCB, Support 5000MHz+ (OC)
Various Extensions
PCIe3.0 X1
PCIe4.0 X4
PCIe4.0 X16
PCIe4.0 X4(22110)
PCIe4.0 X4(22110)
M.2
PCIe3.0 X4
PCIe3.0 X1
PCIe4.0 X4+SATA(22110)
PCIe3.0 X4
(All interfaces are conflict-free)
5* M.2 Slots
(4* SSD slots and 1* Wireless card slots)

PCle3.0X4 (Open-ended sockets)
-permit physically 3 longer cards at the same time

PCle4.0X16 (Stainless-steel strengthening)
-durable and longer Lifespan

ReThink Effective Extensions
The 3-slot graphics card does not block the PCIE slots
ReSafe Stable Design
How to make your motherboard more durable?
8-Layer PCB
Double reinforced moisture
barrier coating

Enhanced signal + enhanced
moisture resistance

More stable long-term use
Multiple temperature
monitoring and
protection points

More detailed protection
8 Pin CPU Interface
Enhanced pin contact
Lower impedance
PCIE Enhanced Welding
Sturdy, stable and
plug-resistant
Austrian Stainless Steel
IO Interface

More durable and
rust resistant
Independent ESD
Chip in I/O

Significantly reducing
tatic interference
2.5G Built-in Filter
Network Card

More Stable Network
Signal
Dual Memory Power
Supply Protection Circuit
DIY Friendly Design
Debug LED
Distributed fan
interface
Larger graphics
card clip
Front panel's color
zoning - easy for wiring
One-click Clr
Cmos buttons
Neat front panel pins
CPU
Supports 12th/13th Gen Intel® Core™ Processors, Pentium® Gold and Celeron® Processors
LGA 1700
MEMORY
4x DDR4, Maximum Memory Capacity 128GB
Memory Support DDR4 3200+(OC)/ 2933(OC)/ 2666(OC)/ 2400(OC) MHz
Supports Intel® XMP 2.0 OC
Supports Dual-Controller Dual-Channel mode
ONBOARD GRAPHICS
1x DisplayPort 1.4
2x HDMI™port
*HDMI™ port supports up to 4K@30Hz
1x VGA
*Support VGA, maximum resolution of 2048x1536 50Hz, 2048x1280 60Hz, 1920x1200 60Hz
*Graphics specifications may vary between CPU types. Please refer to www.intel.com for any updates.
EXPANSION SLOT
1x PCIe 4.0 x16 slot
2x PCIe 3.0 x4 slot
2x PCIe 3.0 x1 slot
STORAGE
M.2_1 slot (Key M), type 2280 (supports PCIe 4.0 x4 mode)
M.2_2 slot (Key M), type 2280/22110 (supports PCIe 4.0 x4 mode)
M.2_3 slot (Key M), type 2280/22110 (supports PCIe 4.0 x4 mode)
M.2_4 slot (Key M), type 2280/22110 (supports PCIe 4.0 x4 mode)
4 x SATA 6Gb/s ports
RAID
Supports RAID 0, RAID 1, RAID 5 and RAID 10 for SATA storage devices
USB
*Front USB (Total 6 ports)
1x USB 3.2 Gen2 Type C
2x USB 3.2 Gen1 Type A
3x USB 2.0
*Rear USB (Total 6 ports)
6x USB 3.2 Gen1 Type A
LAN
Realtek® RTL8125B 2.5G LAN
AUDIO
Realtek® ALC897 Codec
5.1-Channel High Definition Audio
INTERNAL I/O
1x 24-pin Power Connector(ATX_PWR)
1x 8+4-pin Power Connector(CPU_PWR)
1x CPU Fan
4x System Fan
4 x M.2 slots (Key-M)
4x SATA 6Gb/s ports
1x M.2 slots (Key-E)
1x 4-Pin SPEAKER
2x 5V 3-Pin ARGB
1x 12V 4-Pin RGB
1x 2-pin Clear CMOS
1x Front Audio
1x COM_A Port
1x TPM pin header(Support TPM 2.0)
LED FEATURE
4x Distributed Debug LED
OPERATING SYSTEM
Support for Windows® 11 64-bit, Windows® 10 64-bit
FORM FACTOR
ATX
305mm x 245mm