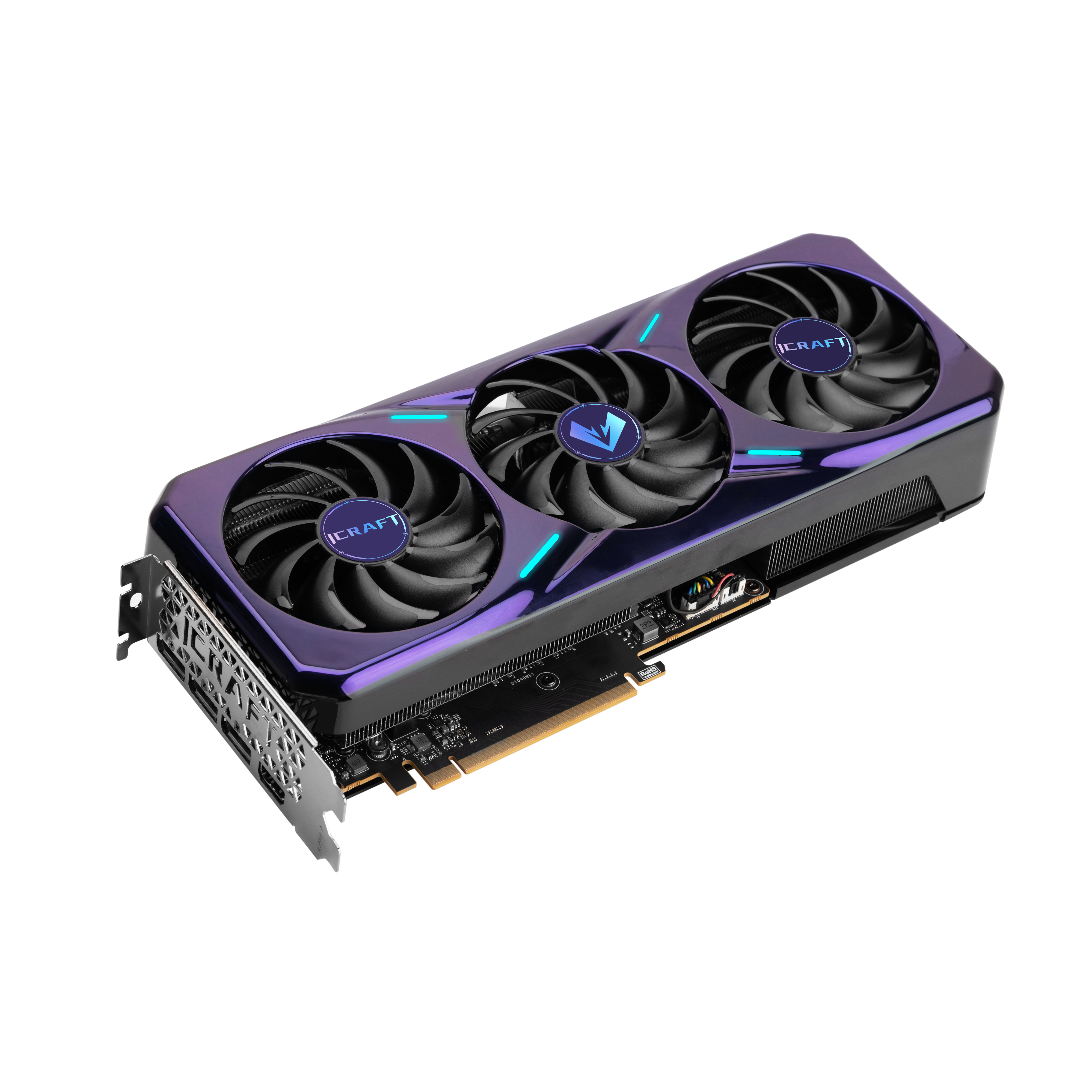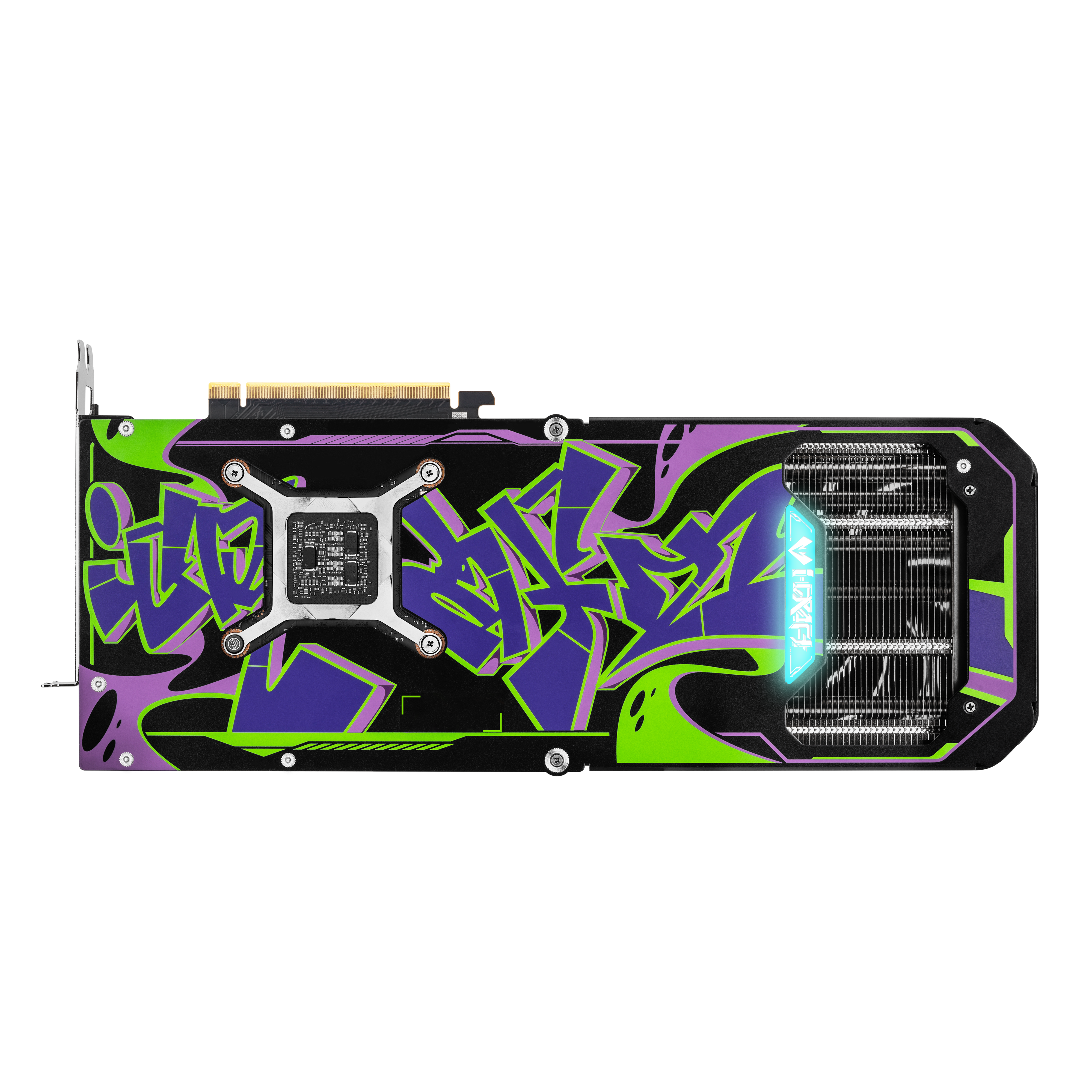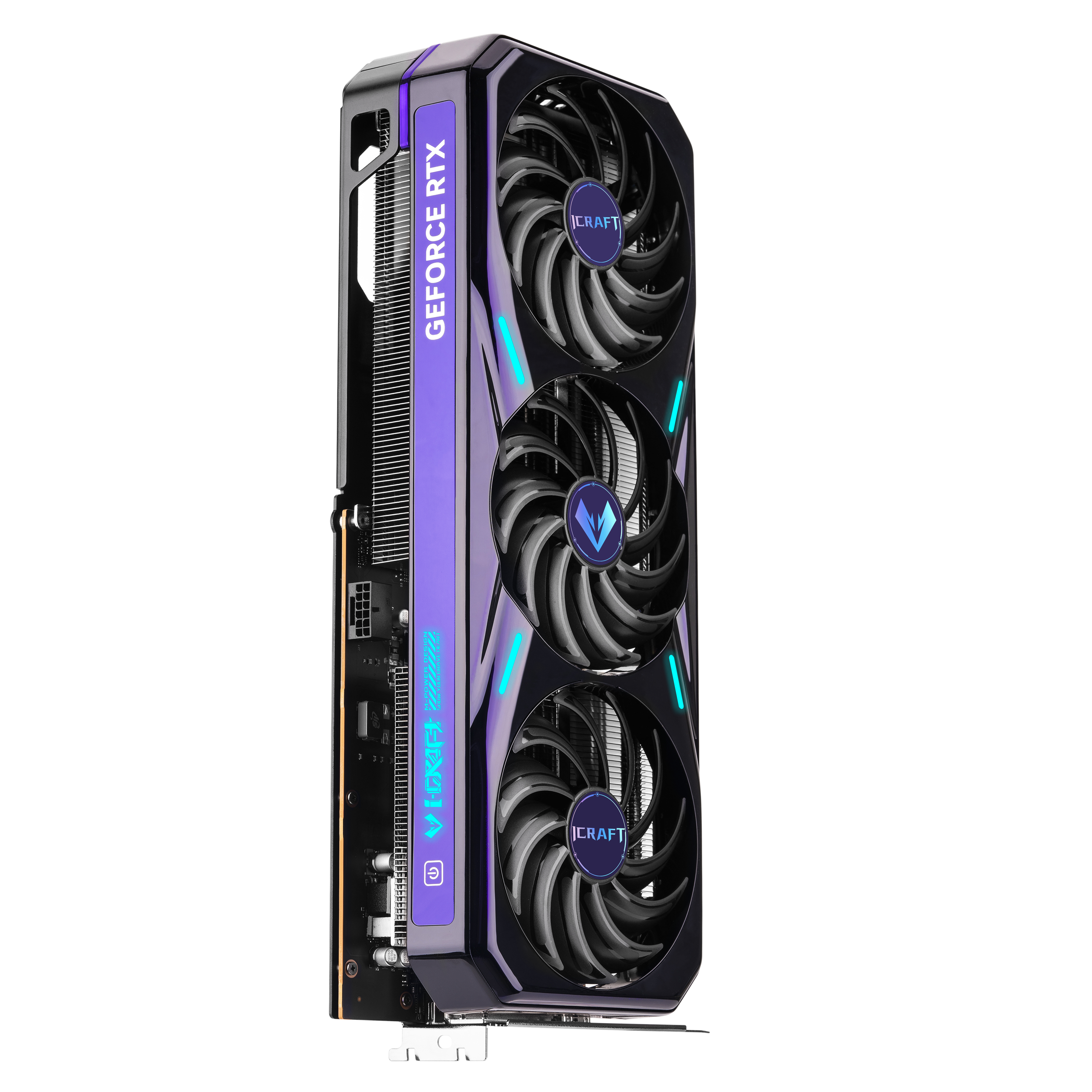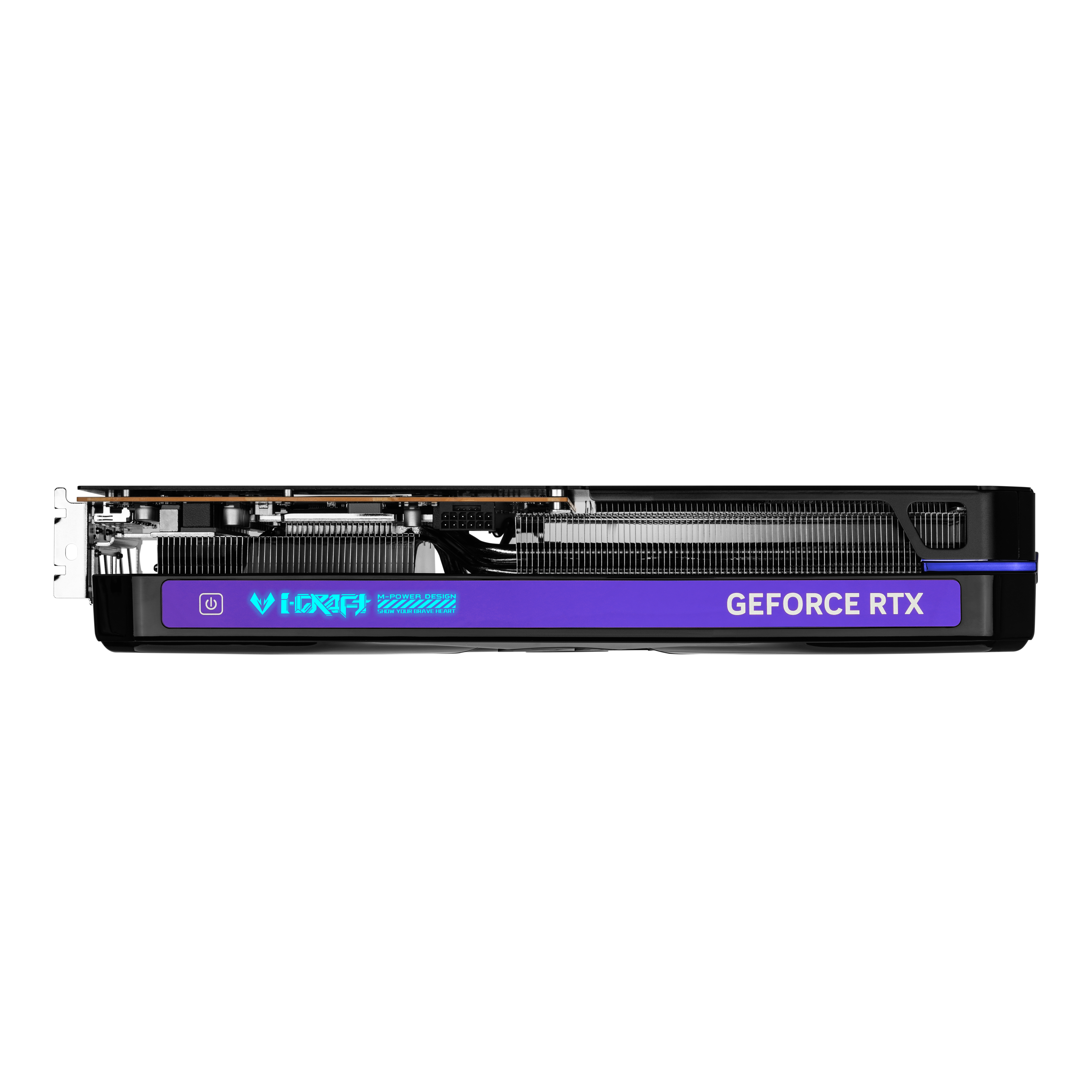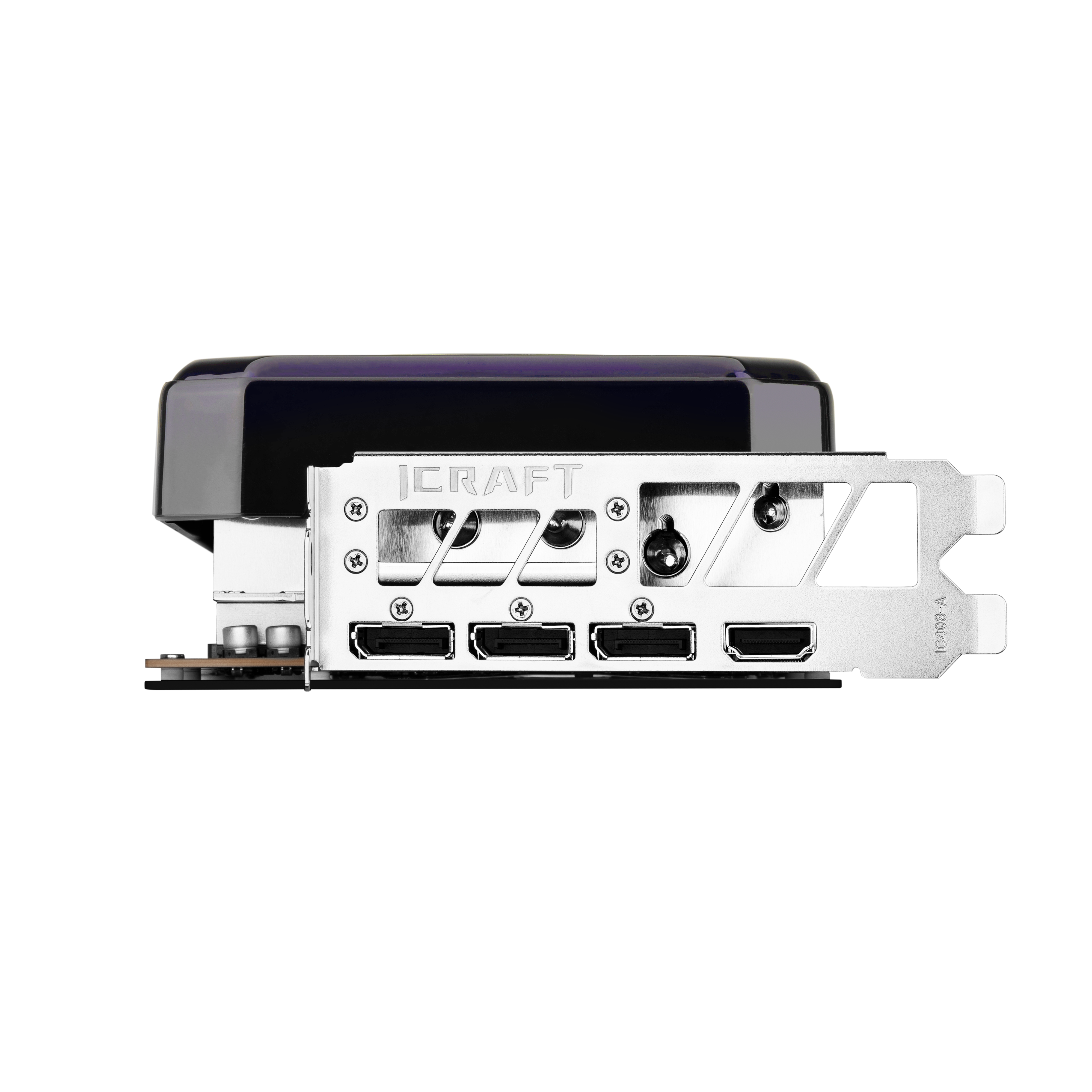 GeForce RTX 4070Ti iCraft OC 12G
---
天际光 RGB
一键开关
暗光涂层
M-Flow 冷却系统
风扇启停技术
iCraft RGB背板
NVIDIA DLSS3
Overview
Specification
Support

GeForce RTX 4070 Ti
iCraft OC 12G
SKYLIGHT RGB

ONE-PRESS SWITCH
DARK LIGHT
COATING

CERAMIC FINISH
M-FLOW COOLING
SYSTEM

& HEAT PIPES RADIATOR
PWM INTELLIGENT
TEMPERATURE CONTROL
HIGH COOLING EFFICENCY
& LOW NOIS
GeForce RTX 4070 Ti iCraft OC 12G
Specification
GPU CODE

AD104

CUDA

7680

Memory Frequency

21000MHz

Memory Size

12GB

Memory Type

GDDR6X

Bit Width

192bit

Bus Interface

PCIE4.0x16

Power Connector

12+4pin

I/O

DP*3+HDMI

TDP

300W

Recommend PSU

750W

Dimension

336*137*58mm
Skylight RGB
One-Press Switch
Press Control
Three Lighting Modes in one press control to
switch Color/off
RGB Breathing
ICE BLUE
ICE WHITE
OFF
Dark Moonlight Coating
Ceramic Finish
The PC fan cover has a new custom-designed dark moonlight coating with ceramic finish quality & good wearing resistance, anti-aging performance with a streamlined design. It will be diffracted rainbow ribbon colors under the luminous.
Dark moonlight coating will be diffracted rainbow ribbons' colors under the luminous. The colors will be different in the different lighting environments.
BRAVE HEART

iCraft Custom Design RGB Backplate
High-strength alloy backplate for the first time using street doodle graffiti style painting, bold and high-saturation color matching with the front of the dark moonlight plating echoes, giving a trendy, personalized visual feelings. The RTX 40 iCraft series continues the design of the back panel RGB ambient light and adds openings at the end to reduce the operating temperature of the graphics card.
M-Flow Cooling System
Reject High Temperature
18%

Airflow up to
4%

Wind press up to
PWM Intelligent Temperature Control balance the cooling efficiency & noise, the 4th gen hydromechanical fan can run in a lower noise but increase 19% airflow and 4% wind pressure at the same rpm.
Huge Area
Radiator
8X
fine copper
heat pine
pcs fine copper heat pines with huge heat sink and high density fins have high effective cooling efficiency.
M-Protection Module
The PCB back side has the metal bracket (M-Protection Module)
to protect RTX 40 Series GPU
S.I.P Power System
The independent S.I.P digital power system has a high
conversion rate and output voltage, larger power supply
fine copper heat pine current, and more precise and powerful
control signals to improve power supply stability for the MAXSUN
RTX 40 iCraft graphics cards.
MODEL NAME
GeForce RTX 4070Ti iCraft OC 12G
GRAPHICS PROCESSING UNIT
NVIDIA® GeForce RTX™ 4070 Ti
ARCHITECTURE
Ada Lovelace
ENGINE CLOCK
Boost mode: 2640 MHz
Default mode: 2310 MHz
INTERFACE
PCI Express® Gen 4
HEAT SINKS
New Generation iCraft Cooling System
OUTPUT
3x DisplayPort (v1.4a)
1x HDMI™ (Supports 4K@120Hz HDR, 8K@60Hz HDR, and Variable Refresh Rate as specified in HDMI™ 2.1a)
DIGITAL MAXIMUM RESOLUTION
Digital Max Resolution 7680 x 4320
POWER CONNECTORS
1x (12+4)-pin
RECOMMENDED PSU
Above 750W
3D API
DirectX 12.2
OpenGL 4.6
CARD DIMENSION (MM)
336*137*58 mm
FEATURED FUNCTION
Support Simultaneous Multi-Projection VR image correction technology
VRWorks Audio Virtual Reality Audio Technology
PhysX Physical Acceleration Technology
NVIDIA CUDA
NVIDIA REFLEX
PureVideo HD hardware decoding
Dynamic Super Resolution
MFAA
GeForce 3D Vision
GameWorks™
G-Sync™-Ready
GameStream™-Ready
GeForce ShadowPlay™
GPU Boost™